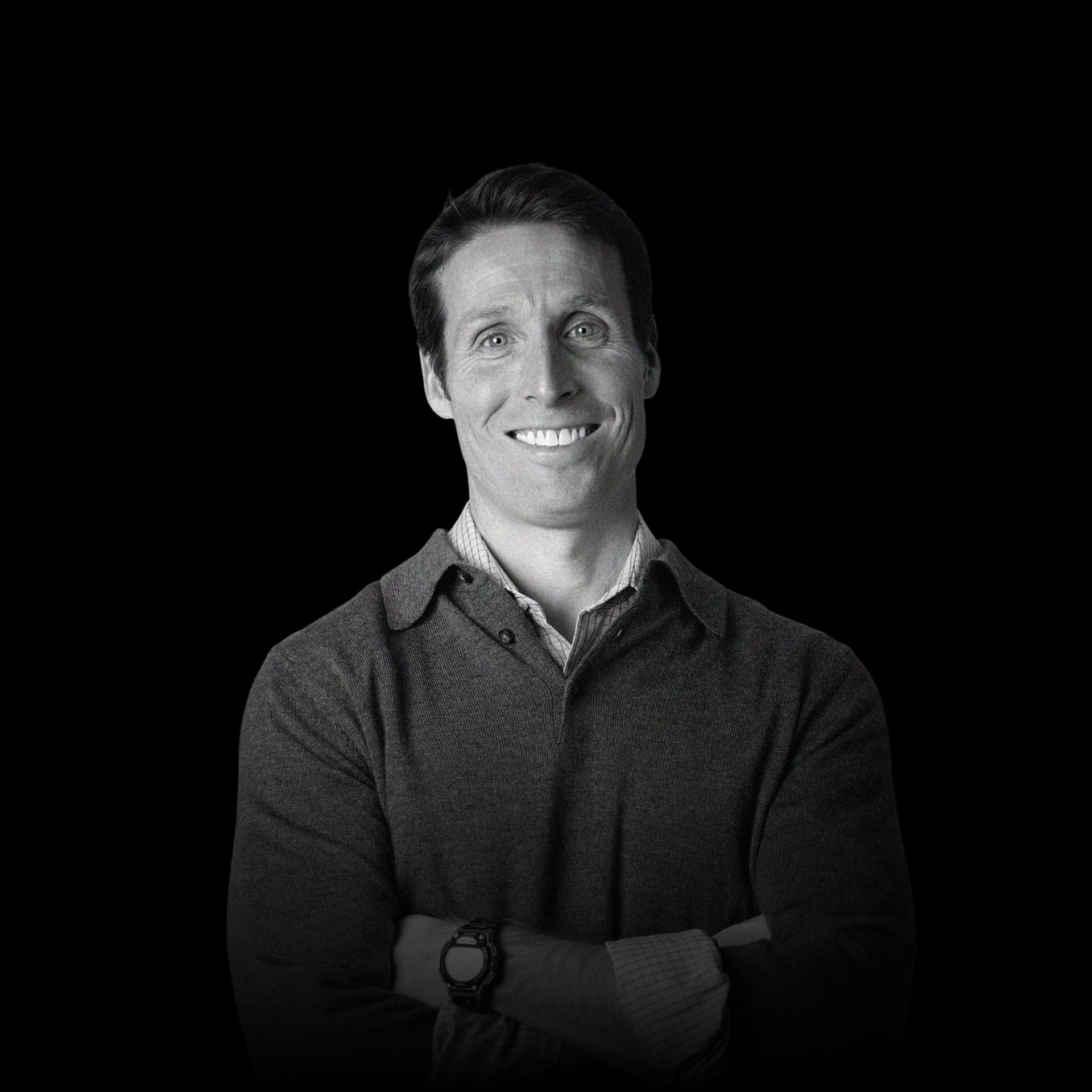 Optimizing for Human Connection
How Clari CEO Andy Byrne's focus on human relationships led him to reimagine the revenue process with artificial intelligence.
When Andy Byrne was a child in the late '70s and early '80s, he remembers being fascinated by the stories his father, Donn, told when he came home from work. Donn ran a commercial real estate business, leasing space to tech startups in the greater Mountain View, California, area. He talked at the dinner table about companies like Fairchild Semiconductor turning ideas into transformational technology. Byrne was mesmerized with the promise of the burgeoning tech scene. "I just loved the idea that you could create something from nothing," Byrne says.
But the dinner table conversations changed when Byrne was a young teen and his parents divorced. His mother, Joyce, worked to support herself, Byrne and his two siblings. Joyce had always played guitar, so she turned her hobby into a teaching business. Byrne recalls cranking out tablature mimeographs in the garage, which Joyce had turned into a music studio with carpeting lining the walls and floors. At the same time, she started another business selling space in coupon books. Byrne remembers stories of his mom sliding coupon books in mailboxes across town. He watched her transform her little coupon business into a successful publishing company, printing chamber of commerce books from San Jose to Walnut Creek.
Byrne paid attention as his mom gradually grew her businesses. "Kids would come to the back, and she would teach guitar," Byrne remembers, "and then her salespeople would come in, five or six of them, and she's training them on how to sell," he says. Watching Joyce hustle, observing her passion for people—her guitar students, her sales reps, her customers—Byrne was inspired to live up to his mom's example.
Today Byrne is the co-founder and CEO of Clari, an AI-powered revenue platform. Clari is the fourth company Byrne's been involved with that has received funding from Sequoia, and after more than 30 years of working together, Sequoia partner Jim Goetz describes Byrne as exceedingly thoughtful and patient. A serial entrepreneur and two-time CEO, Byrne has clearly succeeded as a builder. But today, shaped by the lessons of both success and loss, he says the key to effective leadership is a focus on building up people above all else.
---
Byrne studied economics at the University of Nevada, Reno, and in 1994, went to San José State University to earn his master's in business administration. There, one day he was reading about the founding companies of Silicon Valley and realized that he recognized many of the names from his father's dinner table stories. He reconnected to what had captivated him as a kid: "You had an idea, and all of a sudden, manifest it into products and companies and value," he says. It was something Byrne himself would do—on the other side of a time he calls "our dark year."
"I realized the formula was you have to be curious. You have to be empathetic."

andy byrne
Byrne's first job in tech was selling networking hardware and software, and while other sales reps sold based on a one-page training guide, Byrne would take engineers to lunch and pick their brains. He tells a story about peeking over a cubicle wall when tiny wisps of smoke wafted up. Byrne asked what was going on, and the engineer explained he was soldering a chip to a motherboard. By asking questions and getting to know the engineers and their technology, Byrne could readily explain what was compelling about their products when talking to prospective customers: "I was good at that, and I realized the formula was you have to be curious. You have to be empathetic."
From there, Goetz recruited Byrne for his first product management position in 1997 at VitalSigns, which Goetz co-founded. VitalSigns ran diagnostics on the nascent internet, helping users troubleshoot networking issues. This was where he met software engineer Venkat Rangan, who would later partner with Byrne to co-found Clari and become the company's CTO. "He has a lot of passion with anything that he touches," says Rangan, remembering how Byrne could take client feedback and translate it easily so engineers could get right to work.
Byrne thrived at VitalSigns. "Andy's empowering," says Goetz. "And he's incredibly secure, so he doesn't need to be the smartest guy in the room. He looks to distill the best ideas out of the collective." Three years after VitalSigns' founding, Lucent Technologies snapped it up in 1999. Two years later, Byrne left to found his first company, Timestock, an application-management solution for Fortune 500 companies. Byrne was in his early 30s, and as a first-time founder, he faced the challenge of starting a tech company amid the ruins of the 2001 dot-com collapse.
He was under incredible pressure, he says, to make things work for himself and his eight colleagues, all of whom had agreed to join the company in exchange for equity. Byrne describes the initial 18 months as "crazy." He burned through his 401k. Then, things got more complicated. When his second son was born with critical health issues, Byrne and his wife had to learn to care for a medically fragile infant while raising a toddler without health insurance. Soon after, his father-in-law died in a tsunami in Thailand in 2004; 45 days later, his mother-in-law died of cancer. Then, Byrne was fired. "It was a time when I was not, I could not focus… I couldn't bring my full self to work because of what was going on," Byrne says. "I was not performing well, they let me go." Timestock would later be sold and Byrne made whole financially, but being ousted from his own company, along with so much personal turmoil, sent him reeling.
Byrne refers to this time as "our dark year." To cope, he read the modern classic "Man's Search for Meaning," by Holocaust survivor Viktor Frankl. He was moved by the insight that you can choose your response to life regardless of circumstances. Byrne doesn't liken his situation to Frankl's, but the message resonated in part because of the perspective his mom, Joyce, had modeled: "I saw my mom start something from nothing. And (she) just said, 'I have to be resourceful, and I have to be entrepreneurial' … It's not about a 'poor me' situation. It's about, 'This is the hand I've been dealt and I'm going to figure it out.'" So that is what Byrne did. He worked his network. Goetz had joined Sequoia Capital by then, and Rangan was working there as an entrepreneur-in-residence on a company he had co-founded called Clearwell Systems. Goetz recommended Byrne when Rangan needed a brilliant program manager. Byrne joined Clearwell as a VP.
Clearwell used machine learning to search digital correspondence during legal discovery, replacing what had been a manual process of searching through thousands of pages. The company flourished, and Symantec acquired it in 2012. Now, Byrne when Rangan wanted to launch something as co-founders. Byrne had an idea. As an entrepreneur and leader, he had spent his career nurturing sales and marketing teams, and saw that there always seemed to be too many clients and too much communication. No amount of coaching could help teams make sense of everything, every time. Rangan explains, "There is always some information gap. People were making judgment calls on suboptimal decisions." Byrne and Rangan felt that the customer relationship management software (CRM) salespeople were using was a waste. Byrne said, "I remember walking around the parking lot of the Sequoia offices and saying, 'I'm telling you the CRM has totally failed sales teams; it's horrible.'"
"Andy's empowering. And he's incredibly secure, so he doesn't need to be the smartest guy in the room. He looks to distill the best ideas out of the collective."

jim goetz
Byrne was convinced machine learning could help sales reps close deals faster, drive more revenue and increase revenue forecasting, predictability and accuracy, what he calls "the golden triangle." He imagined the technological solution that would become Clari, a revenue collaboration technology that gathered sales-related data from everything—emails, meetings, outbound marketing—and applied AI to synthesize it and derive actionable insights, freeing up sales teams to connect more deeply with people, not spreadsheets.
Sequoia believed in Byrne and Rangan, giving them office space, and the firm joined in the company's Series A. Initially, attracting clients was a problem. Even though Clari could help sales reps fill in knowledge gaps with data instead of guesses, they didn't want it. Adopting Clari would mean changing how salespeople work, learning new systems and habits. "The roadblock was that our product required a change in behavior of individuals," explains Rangan, who today is Clari's co-founder and CTO. So Byrne and Rangan pivoted to approaching sales leaders, the people he knew could get the most from Clari's technology. His instincts were right, and soon, Clari had 250 customers, the number Byrne felt showed viability. Clari was on its way. But Byrne would face another loss.
---
In 2017, Byrne's brother died by suicide. Byrne says his brother had mental health issues that led to drinking and suffering. To manage, Byrne hired an executive coach who also functioned as a therapist, and started practicing Qi Gong, the Chinese technique of meditation, breathing and movement. "I feel a strong sense of duty and obligation to make sure that everyone knows, children and adults, that we are really making [mental health] a topic that's very important, both at the dinner table and the conference table," says Byrne.
Today, as a CEO and as a person, Byrne is focused on relationships. At work, he says, "When you get into leadership versus when you get into management, they're two totally different disciplines. You realize that it's actually not about running an operating cadence or doing code or selling stuff, it's about human psychology."
Byrne is sincere, with a self-effacing sense of humor. In 2021, he wrote an article posted to LinkedIn titled, "The Metrics of Marriage: How My Wife and I Transformed Our Marriage By Acting Like CEOs." He writes: "These metrics, these spreadsheets, aren't sexy. There's no red bows or diamonds. Making a relationship work, like leading a billion-dollar company, takes dedication and focus." Byrne is self-aware about how this sounds: "We have vision boards, we have objectives and, yes, we have acronyms all over the house, and it drives my kids sometimes crazy. But when they're in their 30s or 40s, they will never forget DPA," Byrne says with a laugh, citing the acronym for "Dream. Plan. Act."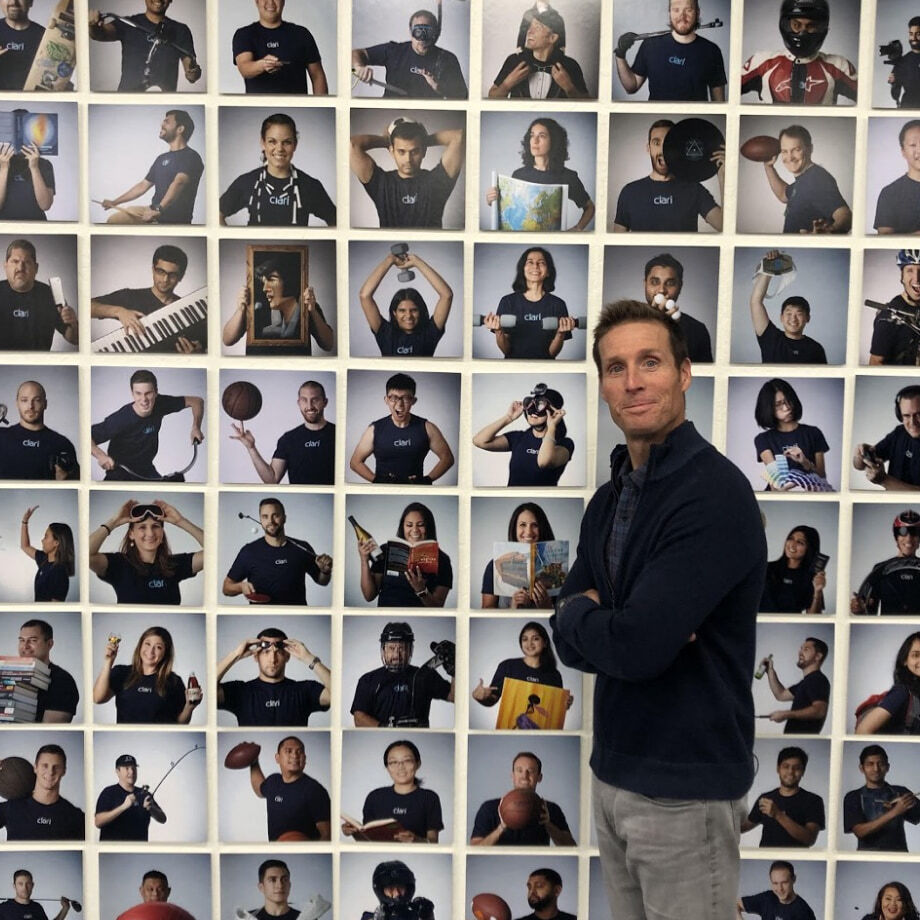 Byrne has learned through years of leadership that his management style is about empowering connection, from encouraging colleagues to leave early enough to make it to their kids' soccer games and field trips, to making space for people to bring their full selves to work. At their Sunnyvale office, dozens of photographs hang on a wall depicting employees holding up personal belongings that showcase their personalities. A man holds a ventriloquist's dummy. A woman looks at a book of paint samples, another reads a book. "The energy you see on that wall at Clari," says Goetz, "from the employees, and the affinity they have for him, is that he genuinely cares about all of his team members, and will spend time with the receptionist, and the new sales rep, the junior engineer, along with his executive team."
Byrne says his attention to connection comes from Joyce: "My mom has such a gift of gab, she is just so persuasive, and people just fall in love with her." He says he's always had some of her gregariousness, her tendency to hug people and say, "I love you." Today, he doesn't just live it, he shares it. As Rangan puts it, Byrne has "really been focused a lot on people's careers, and helping them in advancing their impact and role." Byrne has even mentored him, Rangan says.
Byrne has also invested in Kurt Leafstrand, Clari's SVP of Products. Leafstrand describes himself as an introvert, but says Byrne's focus on nurturing relationships has influenced him. He's learned to extend himself—to lead with enthusiasm at board meetings and with small kindnesses toward his team, which results in an unusually high team-retention rate.
In Byrne's attention to cultivating connection, there is no detail too small about which to be deliberate. Leafstrand talks about how Byrne always makes sure people's favorite music is on when they get into his car, even if it's Toto's "Africa," as he did for one potential partner. It's about making a person feel cared for, says Leafstrand. "[It's] about the impact that you're having, that you have a chance to help them," he continues. "And that you should be thinking about that intentionally, like a steward."
Three decades into his career, Byrne continues to mature in his stewardship of people and business, and he is excited for the future. "I'm just so proud to see a group of really, really incredible people who are trying to achieve something remarkable, who are just loving their work, loving their time together. And you know, I feel like our best work is in front of us. I've got so many crazy ideas… and I just can't wait to do more."
Join our mailing list
Get the best stories from the Sequoia community.