Barracuda IPO: How to Take a Bite Out of a Market
Conventional wisdom when Barracuda launched was that you couldn't build a big company selling to small and medium businesses. Barracuda's subscription model proved otherwise.
By Team Sequoia
Published November 6, 2013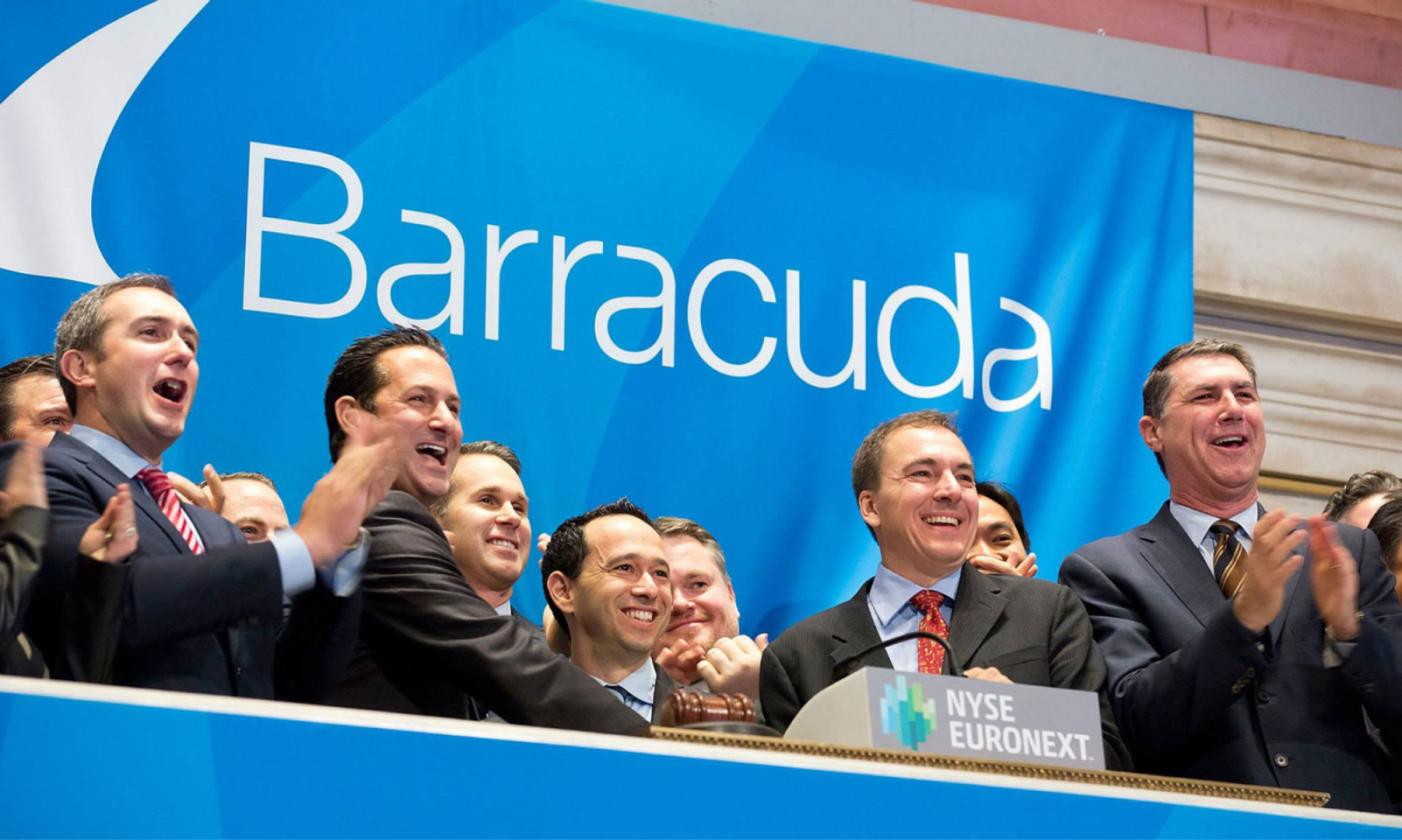 Exceptional entrepreneurs can still succeed in a market that already seems saturated, especially if they combine a simpler product with a better business model. That's the lesson from Barracuda, which is going public Wednesday.
Dean, Michael and Zach in 2000 founded Affinity Path, a white label ISP for universities, churches and other nonprofit organizations. Email spam was just becoming a big issue. They would have needed to spend 10 times as much on its infrastructure to handle all the unwanted messages.
Companies like Postini and IronPort were already trying to stop spam. But Dean, Michael and Zach concluded they were too costly and complex.
Instead, the team developed its own solution for blocking spam. The three had a small Los Altos office perched above a courtyard next to a Mexican restaurant that frequently served as their meeting room. One morning in 2002, they all arrived at work having realized independently that they should go into the anti-spam business full time.
That day, they erased the notes off the whiteboards and designed an anti-spam product and the go to market strategy—both of which are still largely in place today. They spent the rest of the day debating aggressive names like Lion, Tiger and Alligator. They wanted something with teeth. Barracuda was the first one they could get the domain for.
They quickly segmented the business and their roles: Zach was in charge of technology and built the product; Dean handled the logistics and managed the business; Michael put together the marketing plan and website.
They all had past experience working with businesses to install information-technology systems and felt strongly that the model was broken. Businesses insisted on products with more and more features. But these products were impossible to install without expensive consultants and difficult to operate without well-trained staff.
The Barracuda team realized that the way forward was to make a product that an IT person could install by themself. After some discussion, they decided that an appliance that can update itself over the Internet was the right model and set out to build one that could block spam effectively while being easy to use. Importantly, they realized that the updates could be turned into subscriptions that would lock in recurring revenue.
The company decided to let people order the appliances for themselves on the website. It wasn't clear at this point that businesses would just buy and install their own hardware. But they did. In fact, customers tried to buy appliances before the product was even ready to ship. Barracuda told customers that they were on backorder in an effort to stall for time.
Barracuda based the product roadmap on customer feedback. Often, the founders would find themselves in the office taking customer calls and when someone would ask about a feature they'd determine how quickly they could get it into the product. Like a lot of things at Barracuda, the company never deviated from that early way of doing things and engineers still sit with the customer-support team.
Conventional wisdom when Barracuda launched was that you couldn't build a big company selling to small and medium businesses. The transactions aren't large enough.
Barracuda's subscription model proved otherwise. The model also scaled to new products. Dean added some through acquisition and Barracuda developed others itself. The company has also been aided by a big marketing insight: Small and medium businesses behave more like consumers than traditional enterprises. Hence, the Barracuda signs in airports across the country.
Last year, the company hired B.J. Jenkins, a longtime EMC exec, as CEO. He's a spectacular leader for the next phase of growth. In his short tenure, he's already led the company into new markets.
Barracuda now has over 150,000 customers in more than 100 countries. And the company still doesn't have a large outside sales force. Instead it relies on an inside sales team it has hired and trained itself—the company is now known as a academy of sorts.
Congratulations to Dean, Michael, Zach, B.J. and everyone at Barracuda. (Happy Birthday Dean!)
Barracuda never deviated from their early way of doing things. Engineers still sit with the customer-support team.