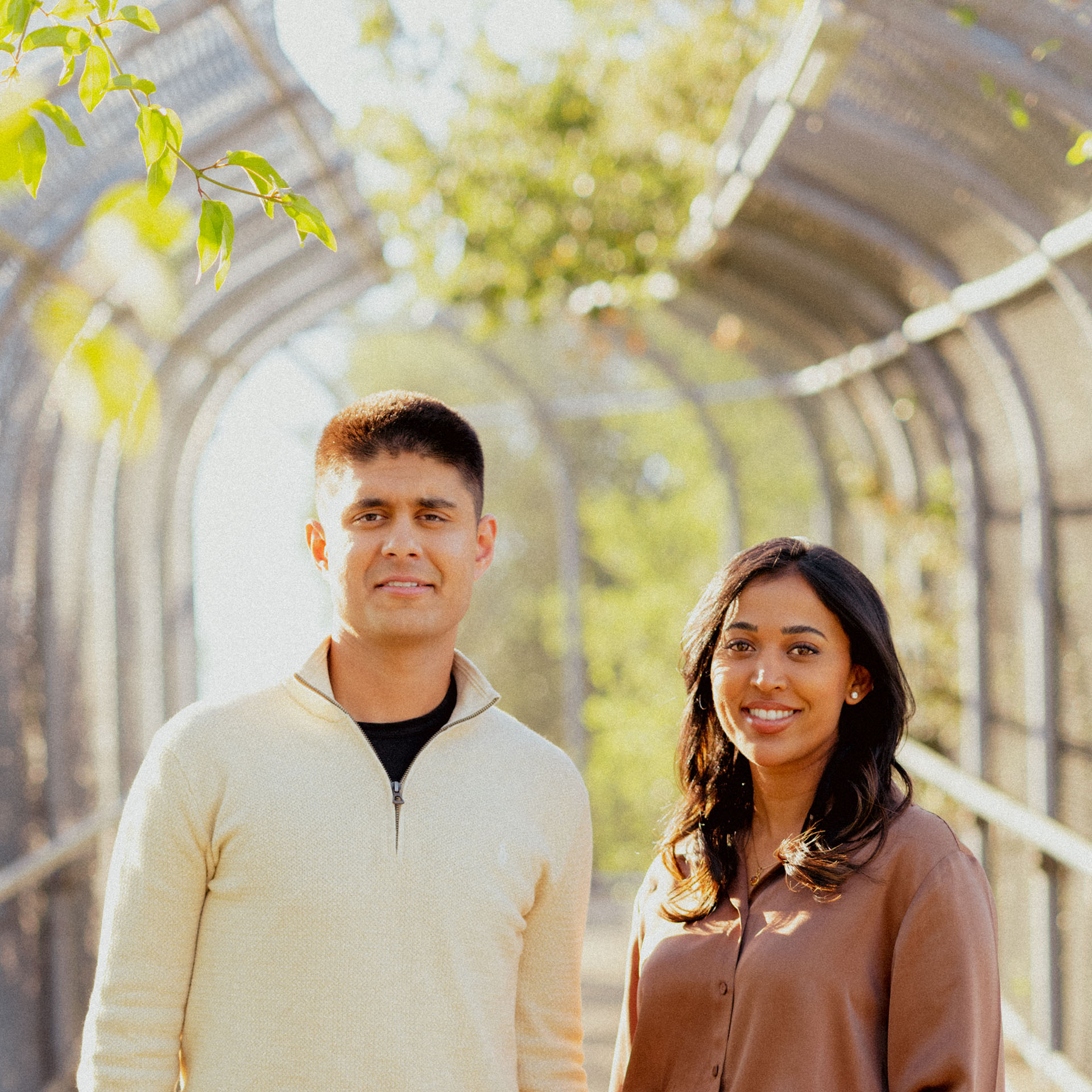 For Deepika Bodapati and Tanay Tandon of Athelas, paying attention is a superpower.
Four years ago, Deepika Bodapati was up late, staring at her computer and doing something rather unusual for a founder of a startup soon to achieve unicorn status: she was reading all the support tickets that came through her company, Athelas', website. "Once in a while, we'll have our employees' parents write in," Bodapati says with a laugh. "But I read every single thing because I just thought it was super interesting." As Bodapati waded through the queries and suggestions, studying how her sales team handled issues, she noticed one woman, Dr. Deanna Kelly, writing in again and again.
"She was very persistent," Bodapati recalls. Dr. Kelly, Chief and Director of the Treatment Research Program at the Maryland Psychiatric Research Center, was asking to study the Athelas One device, claiming she could help Bodapati further develop and test the machine. Bodapati knew that she and her co-founder, Tanay Tandon, were looking at an arduous application process for their second FDA clearance and would need all the support they could get. So Bodapati did what she was best at: she picked up the phone and listened to what Dr. Kelly had to say. This approach has come to define her ability to build both a better product and a better business.
---
Listening has always been central to Bodapati's creative process. Listening closely to both the data and her intuition led to the Athelas One, which is the only FDA-approved, internet-connected finger-prick device that tests white blood cell and neutrophil counts at home and then shares that information directly with healthcare providers. The Athelas One is a small black cylinder, similar in appearance to an Alexa device. In a traditional lab, pathologists take a drop of blood, put it on a slide, smear and stain it and place it under a microscope to determine cell counts. Athelas One uses computer vision and machine learning to automate the process, and then sends the information to a healthcare team. Athelas is a leader in producing portable devices for remote patient monitoring (RPM), a growing sector of the global healthcare market that may be worth more than $175.2 billion by 2027. The need for such an industry was revealed during the pandemic, but RPM can benefit anyone from patients with chronic diseases who need to consistently track their medical data, to elderly or disabled individuals for whom a trip to the doctor's office can be cumbersome.
As lifelong scientists, the founders knew Athelas One needed data proving, beyond doubt, that it worked consistently and accurately; as entrepreneurs, they knew a trial, as soon as possible, would be essential for the company's development. When the duo participated in Y Combinator, they found themselves among a handful of potential competitors—but none of them had run a clinical trial yet. Bodapati and Tandon knew this could make them stand out to potential customers, partners and collaborators. "There was no option," Bodapati says. "There would be no company if there was no trial."
Setting up a clinical trial is complicated, and, through an acquaintance, Bodapati had a lead on a hospital in Juarez, Mexico, a city of 1.5 million across the border from El Paso, Texas. In 2016, Bodapati and Tandon conducted their first clinical trial for Athelas One.
Bodapati says that the hospital instantly saw the value in the Athelas One device for their patients. "We were able to set up a table, where, on one side we had our device, and on the other side was the nurse who was drawing blood to compare with the Athelas One samples (to make sure they were accurate). And then we told them, 'Free blood testing for anyone for the next three days.'" Bodapati sat at a table in the hallway with the Athelas One and its finger-pricking lancets and glass test strips, and Tandon sat in another room reviewing the results on a computer monitor. The response was overwhelming. Patients came from all over, alone at first, and then the next day with their families. One patient, at the hospital for a routine appointment with their doctor, had blood drawn at the Athelas table on a whim—a whim that would be life altering.
When Tandon saw this patient's blood cell images on his laptop, he knew instantly that something was wrong. Over several days, he'd been reviewing hundreds of blood test results, all displaying the normal range of white blood cells, between 6,000 and 8,000, but this patient had a count of well over 40,000. Tandon immediately got up to show Bodapati the results. The two also saw that the cells were immature, which indicated mass proliferation of leukocytes, a type of white blood cell. Tandon and Bodapati knew what this meant: the patient had leukemia. But because Athelas One had yet to receive FDA approval as a diagnostic tool, they couldn't speak directly to the patient. They were, however, able to alert the hospital staff that the patient needed to be tested for cancer.
Bodapati remembers flying back to California days later and sitting quietly next to Tandon, both of them struck by the force of what had happened. She felt the weight of the results, presented in such a personal way to someone they'd seen face-to-face. Though the two were mainly silent on the flight, Bodapati was listening to something—an inner voice describing not only the future of her company, but possibilities for the good she could do, the change she could drive in the healthcare industry more broadly. "Imagine if you could do that all the time with really cheap tools?" Bodapati asks. "You go in, you sign your name, you prick your finger. You get told right there. You don't have to go to your appointment, then go to a different place and get your lab drawn." It took another three weeks for the hospital to confirm the patient's leukemia diagnosis that Bodapati and Tandon saw in minutes. Tandon was haunted by the fact that the patient had come in for a regular doctor's appointment, "But because healthcare today is not quantitative, it's traditional, you come in, you get some symptomatic analysis and they'll tell you to go home and rest."
"That's when it clicked," Bodapati recalls, referencing that solemn flight. "It's this concept of making tools so cheap, so usable, that people can do it all the time. Only then can you actually get preventive care."
"It's this concept of making tools so cheap, so usable, that people can do it all the time. Only then can you actually get preventive care."

Deepika Bodapati
---
Alfred Lin, a partner at Sequoia Capital who collaborates closely with Athelas, happened to already be questioning the landscape of available medical testing technology when he met the co-founders while they were participating in the Y Combinator startup accelerator. Lin's father was undergoing chemotherapy, and Lin was frustrated that the most reliable method of testing whether his father had an infection was to take his temperature. If a chemotherapy patient has a fever that spikes above 101.3, they're told to go to the emergency room. But to Lin, the thermometer felt like an inadequate diagnostic tool, based on what always happened next. "I just found that so silly. What if it's 101.2 and it's not .3?" Lin asks. "The first thing that happened every time I took my father to the emergency room was they take his temperature, his blood pressure and look at his vitals. And then the next immediate thing they did was to take a full blood count." Lin, like Bodapati and Tandon, felt there had to be a faster, more accurate way of putting the needs of the patient first: "Tanay and Deepika were on a mission to figure out a more comprehensive test than a thermometer," Lin says
---
Sometimes the signals Bodapati is listening for come from places like support tickets; other times they're literally knocking on the door. The company wouldn't be where it is today had Bodapati and Tandon not been pursued by their first test user, a Stanford University student and basketball player named Michael Morris. "Michael was an inventor at heart," Tandon tells me, "A lot of the ideas around how we could make the device user-friendly came from him." Morris was also a cancer patient who needed constant monitoring of his white blood cell count. When he heard about how two of his college classmates were experimenting with a machine that might help him, he showed up at their office in Mountain View—a barely refurbished liquor store—ready to be their guinea pig. Tanay and Bodapati had been building since their high school science fair days, and—with Tanay's background in machine learning and artificial intelligence, and Bodapati's time spent internering at her uncle Dr. Sanjiv Gambhir's molecular imaging research lab at Stanford—the two friends were able to make a prototype for an in-home blood testing kit.
"[Morris] brought this energy with him that would just take over the office," Tandon says. "And it was so helpful for the early team of 4 or 5 people to see an actual patient talk about how important this was, and how much you wanted to track these critical metrics." Using Athelas One consistently over the next couple of months, Morris noticed a disturbing trend in his cell count. His cancer therapy wasn't working anymore. "He asked us to go to a doctor's appointment with him," Bodapati reveals. "It felt so personal because he was showing the doctor his results, and telling him that the cancer was back." In that office, supporting her friend—a sick man holding tightly to his wife's hand—Bodapati saw again how valuable Athelas could be.
Soon after this moment, the FDA sent Bodapati and Tandon an additional information request for Athelas One, a kind of auditing the agency does to further analyze efficacy. The Jaurez trial proved to Bodapati and Tandon that Athelas One worked, and that they were right to believe in their new business. But the FDA wanted more, including other trials. Though it's fairly standard to receive such a request, the 40-plus line questionnaire was daunting, demanding another 8 months of data collection and an additional trial, which still wouldn't guarantee FDA approval. Yet Bodapati says Morris' belief in the device kept them going, with the paperwork and the eventual second trial that led to their FDA approval. His constant presence energized the staff, and his input on how to better Athelas One for its users was crucial, she says.
In 2017, Michael Morris passed away. "Michael really believed in it," Bodapati says, naming him as one of their first true advocates; a guiding light urging them forward. "He told us, 'It's too late for me, but make sure you bring it to other people.'"
Bodapati has been hearing those words ever since.
JOIN OUR MAILING LIST
Get the best stories from the Sequoia community.
Flights have been their own recurring theme during Bodapati and Tandon's long friendship. They first bonded on a flight as teenagers when competing on the elite science fair circuit, an extracurricular they participated in with such intensity that they joke about it being a competitive sport. (As a preteen Bodapati even invented a test strip that could detect whether vegetables were contaminated with salmonella and E. coli. It was her first foray into microfluidics, working with and studying how fluids move in miniature devices and the spaces within them, which later came to play a large part in the development of Athelas One.) The experience of going from competitors to friends and collaborators eventually brought Bodapati and Tandon together as co-founders. "I know his strengths. He knows my strengths. We knew one another when we were competing, so it was the rawest form of each other," Bodapati says. Lin even recalls the two of them finishing each other's sentences, describing Tandon as verbose while Bodapati is a grounding presence. If Bodapati is the listener, then Tandon is the talker.
Bodapati has been honing her listening skills since childhood—both in her family home and in her uncle's Stanford research lab. Her parents were small tech business owners with companies in the United States and India, and because of the time difference, they were often on the phone with their teams abroad while dropping Bodapati off at school. Sitting in the backseat, Bodapati could hear the chatter of business deals considered, strategies debated, negotiations made. Bodapati's brother, Sunil, also remembers, "After dinner, we would hear them get on the phone to kick off early meetings with the India team, and we were able to listen to how they approached deals, how they structured them. We were there when deals went through, there when deals fell through, there when employees quit. So we got to see what it was like to go through the highs of the lows [of running a business] in a very visceral way."
Bodapati tells me that sometimes the training was more explicit, though; her father would encourage the family to have what he called "pitch night," teaching the kids how to really sell their latest science experiment. "My dad would always tell us, 'You can't just explain the science; convey it in a way that is compelling—what's the practical implication of the project?'" Sunil, who is the CEO of his own healthcare startup, Enable Medicine, says that while he and his sister learned business from their parents, it was their beloved uncle, Dr. Gambhir, who instilled in them a love of science.
Dr. Gambhir, chair of radiology at Stanford and a pioneer in advancing techniques for molecular imaging and early detection of cancer, died of cancer in 2020 at 57. Bodapati tells me that she believes if her uncle were still alive he would be awarded for his work with a Nobel Prize. He wanted not just to innovate, she says, but also to truly improve the lives of those affected by cancer. Bodapati's years spent working in her uncle's lab and listening to his stories and advice, led her to want to revolutionize preventive care, to improve people's lives holistically.
In 2013, Dr. Gambhir's work and research became deeply personal: his teenage son, Milan, was diagnosed with the aggressive brain cancer glioblastoma multiforme—the exact tumor type Dr. Gambhir had been studying. Tragically, Milan died two years later.
Bodapati shares the story his uncle told the lab the first time he returned after Milan's death and how she internalized it, becoming ever more motivated to create positive change, even from terrible loss. Dr. Gambhir gathered his staff at the office and told them a fable credited to several Native American tribes: a grandfather is teaching his grandson about life and reveals that every person has two warring wolves within them. One wolf represents resentment, petty jealousy and sorrow, while the other is hope, compassion and faith. The grandson asks his grandfather which wolf wins in the end; the grandfather responds, "Whichever one we feed." With that, Dr. Gambhir turned to his colleagues, bowed his head and said, "Let's remember that's what we're doing here."
As Dr. Gambhir continued to research early cancer detection, he became a leader in developing tools that could passively monitor patient health by collecting data in minimally intrusive ways, like a smart toilet that tests stool and urine for early signs of disease. Gambhir dreamed of a proactive healthcare system, one preventive and holistic, rather than focused on fixing problems individually as they arise. Today, Bodapati is working to make this a reality. "Part of who I am now is because of the work that I did with him and his lab," Bodapati says. Sunil underscores his sister's feelings: "You know that if you can move the needle in a significant way for human progress, then you kind of have an obligation to do that."
---
On the opposite side of the country, in the suburbs of Baltimore, Dr. Deanna Kelly, Director and Chief of the Treatment Research Program at the Maryland Psychiatric Research Center, was trying to develop or find a point-of-care device that would help her treatment-resistant schizophrenia patients gain access to the antipsychotic drug clozapine. One of clozapine's side effects is neutropenia—too few white blood cells to fight off infection—and tracking a patient's white blood cell count requires regular testing. When the FDA cleared clozapine for use, it did so with the mandate that patients get labs drawn every week for the first 6 months, then every two weeks for the next 6 months, then once a month for their course of treatment, which, for most patients, is a lifetime. This would be a difficult task for anyone, let alone someone suffering from paranoia and delusion.
For the last 20 years Dr. Kelly had been working with clozapine, and believed it would be life-changing for many people with treatment-resistant schizophrenia. She believed that the drug could be the difference between a patient living in a closed facility or leading an independent life with a steady job and stable relationships. "Often doctors believe that though this drug would be life changing for their patient, it's just too much of a liability to have them on it'" Bodapati says. "Or patients feel that even though they know the drug is good for them, they simply can't manage all these steps.'"
Dr. Kelly says up to 30 percent, or more, of people diagnosed with schizophrenia are labeled "treatment resistant," and it doesn't take much for a patient to receive such a designation. "The guidelines tell us that [after] two failed trials of antipsychotics, someone should be considered treatment resistant," Dr. Kelly says.
"Once I heard about Athelas, I was like, I don't know if this is too good to be true. Then I kept reaching out and kept thinking this is going to be a major advantage and a major breakthrough to revolutionize our care."

Dr. Deanna Kelly
Dr. Kelly and her colleagues at University of Maryland College Park were experimenting with electrochemical detection for monitoring blood levels and neutrophil counts, but they weren't getting far. "Once I heard about Athelas, I was like, I don't know if this is too good to be true," Dr. Kelly recalls. "Then I kept reaching out and kept thinking this is going to be a major advantage and a major breakthrough to revolutionize our care." Fortunately for her, Bodapati listened.
Dr. Kelly was thrilled when Athelas One received its second FDA clearance for at-home use. This allows the results to be instantaneously sent to a doctor and a pharmacist, who then ships the medication directly to the patient—meaning the patient has to do little more than prick their finger in the privacy of their own bedroom. Dr. Kelly says some of her patients are poor, lack transportation, or have cognitive impairments, things that make participating in a traditional healthcare system nearly impossible. "The way Athelas did it was clever: merging these results that you get back to the [risk evaluation management] system, coupled with the ability to order in a pharmacy. That's a game changer."
Bodapati and her team worked to get Athelas One in California state hospitals, specifically in forensic facilities and county medical facilities that treat a significant number of homeless patients with drug-resistant schizophrenia. By this time, HLS Therapeutics, one of the makers of clozapine, heard about Bodapati and Tandon's work and offered the duo a rare opportunity to partner, broadening their reach into mental healthcare and beyond oncology in ways they never expected.
Cliff Weitzman is CEO of the text-to-speech audio reader Speechify, and has been part of a support network for a friend who hasn't responded to most antipsychotics. Weitzman describes this experience as hopeless. "What Athelas gave us was hope. When this happens, you lose control. When someone breaks their arm you can see it, but when it's mental it's scary" he says. "They might stop eating, stop drinking, stop being able to function. You lose all control, and that's very scary. And there's nothing you can do. And then you go to doctors, and there's nothing that doctors can do either. "
Wietzman took time off work and flew all over America to speak with top psychiatrists. After that year, he discovered the potential of clozapine in a Facebook group. "The first, second, third, fourth, fifth, sixth, eighth doctor you talked to does not bring up clozapine," Weitzman says. "We went on Facebook groups of patients who have similar problems, and the only success stories we heard often were from patients who use clozapine. And we're like, well, what is clozapine?" Weitzman believes that clozapine wasn't even considered by the patient's medical team because it's not only difficult for the user, but it's also a burden for the doctor prescribing it. "It's a lot of work because the doctor every week has to go to the portal, click the button, make sure that the regulation is there. Doctors don't want to do that. That's not why they went to medical school."
Athelas One had broken down the primary barrier to doctors prescribing clozapine. "Now it's a realistic thing that we can use," says Weitzman. He believes the company has the ability not only to help millions of people with previously untreatable diagnoses, but also to offer relief to their support networks, helping them to reconnect with their loved ones. "You've gone from a state of scary, helpless, hopeless, to empowered, assisted, supported, hopeful. So it gives hope. That's a very special thing that very few companies can say they succeed in doing."
---
"We realized we had an opportunity where the world is on pause, and we've collected all of these interesting lessons from getting this FDA clearance and then launching in some of these incredible health systems and clinics."

Tanay Tandon
When the pandemic hit, Bodapati found herself listening again, this time for insight on how Athelas could transition from diagnostic to preventive care. "We realized we had an opportunity where the world is on pause, and we've collected all of these interesting lessons from getting this FDA clearance and then launching in some of these incredible health systems and clinics," says Tandon. "We can continue to operate as a traditional biotech or we can synthesize this knowledge and turn it into something a lot bigger that can really serve the population that we touch and help them work through COVID, but also create this transition to preventive health."
Bodapati spotted an opportunity when she was on a sales call with a psychiatrist named Dr. Gustavo Alva from southern California. Bodapati asked him to tell her about his other patients, those who weren't on clozapine—what were their needs? Dr. Alva said he had thousands of patients, a large percentage of whom were on medications with side effects like weight gain, hypertension and Type 2 diabetes. When Bodapati asked how he was monitoring his patients' long-term health, he replied that it was often left up to the primary care doctor. Bodapati didn't hesitate. She asked Dr. Alva to connect her to some of his patients who would be open to chatting so she could discern if Athelas could help. On the calls, she heard that they often didn't see a GP, just their specialist.
Based on these calls, Bodapati and Tandon started building a suite of predictive, internet-connected tools that worked together to monitor a patient's health. Shortly, she went back to Dr. Alva and asked him how valuable it would be if she could give specific patients glucometers, weight scales and blood pressure cuffs that all recorded the patient's results at home and sent the results to a healthcare team.
Before the call ended, the two had roughed out a path toward a collaboration that led to an order for more than 800 patients. The Athelas team got to work, reaching out to potential patients, getting them the devices and onboarding them. Then the Athelas team set the patients up with a nursing team. "Once we got them on the program and they were continuously testing, [Dr. Alva] told us how powerful it was to engage these chronically ill patients from their homes. It was something he had been attempting for decades," Bodapati says.
Bodapati and Tandon then developed an app that allows the patients to record their information and schedule appointments. "That's how our product grew," says Bodapati. "And overnight, our average deal size went from 10 patients to 600." The co-founders have also created a pill tracker that works in tandem with the Athelas One for any patient for whom tracking their medication is a burden—a device that can help the provider as well as the patient to determine whether the medication is working or if it's not being taken correctly.
As soon as Bodapati attempted to bill for the remote patient monitoring Athelas was now offering, she started to wade through the insurance coding maze and realized how opaque the current medical billing system really is: "As a business, you need to know how much money you're making, and as the CEO of the business, you need to have that information within 30 seconds. It was very clear that the doctors had no idea," says Bodapati "You don't really know where your money is coming from, how it's segmented. It's a black box." Again, Bodapati saw a need and developed a solution; Athelas is now an innovator in remote patient monitoring and in revenue cycle management (RCM), helping private practices and provider groups bill appropriately and consistently. Now Bodapati says that RCM has become a core part of Athelas' future, joining a $126.1 billion industry.
"We found that people are so much more willing to innovate, systems are willing to innovate, insurance companies are willing to innovate. Patients are willing to try new technologies."

Deepika Bodapati
Lin sees a future of Athelas that goes beyond monitoring the sick to one connecting all people with preventive care. Now Bodapati is scaling up teams and connecting with as many hospital systems and provider groups as she can, having already partnered with Palomar Health System and Horizon Family Medical, which, she says, together represent approximately 100,000 patients. "What's been most rewarding working with Deepika and Tanay, when they get close to their vision, they're always very, very good at expanding it," Lin says. Bodapati believes that improving the healthcare industry and making it more accessible is simply a matter of finding the people who need help and listening to them. What she doesn't mention is the hard work, the designing, fabricating and testing that the listening leads to. This work has shepherded Athelas to become, in Bodapati's words, the sensor and software infrastructure for running a modern healthcare business, with a unique value proposition of identifying "hard to discern" commonalities between stakeholders. Her insights are the key to this success. "We found that people are so much more willing to innovate, systems are willing to innovate, insurance companies are willing to innovate. Patients are willing to try new technologies," Bodapati says. "We would talk to patients, asking them, 'What can we do to make this the easiest possible experience for you?' And they'll tell you exactly what they need and what they want. Once you unlock that, it becomes really powerful. Because then you just keep building and building and building."