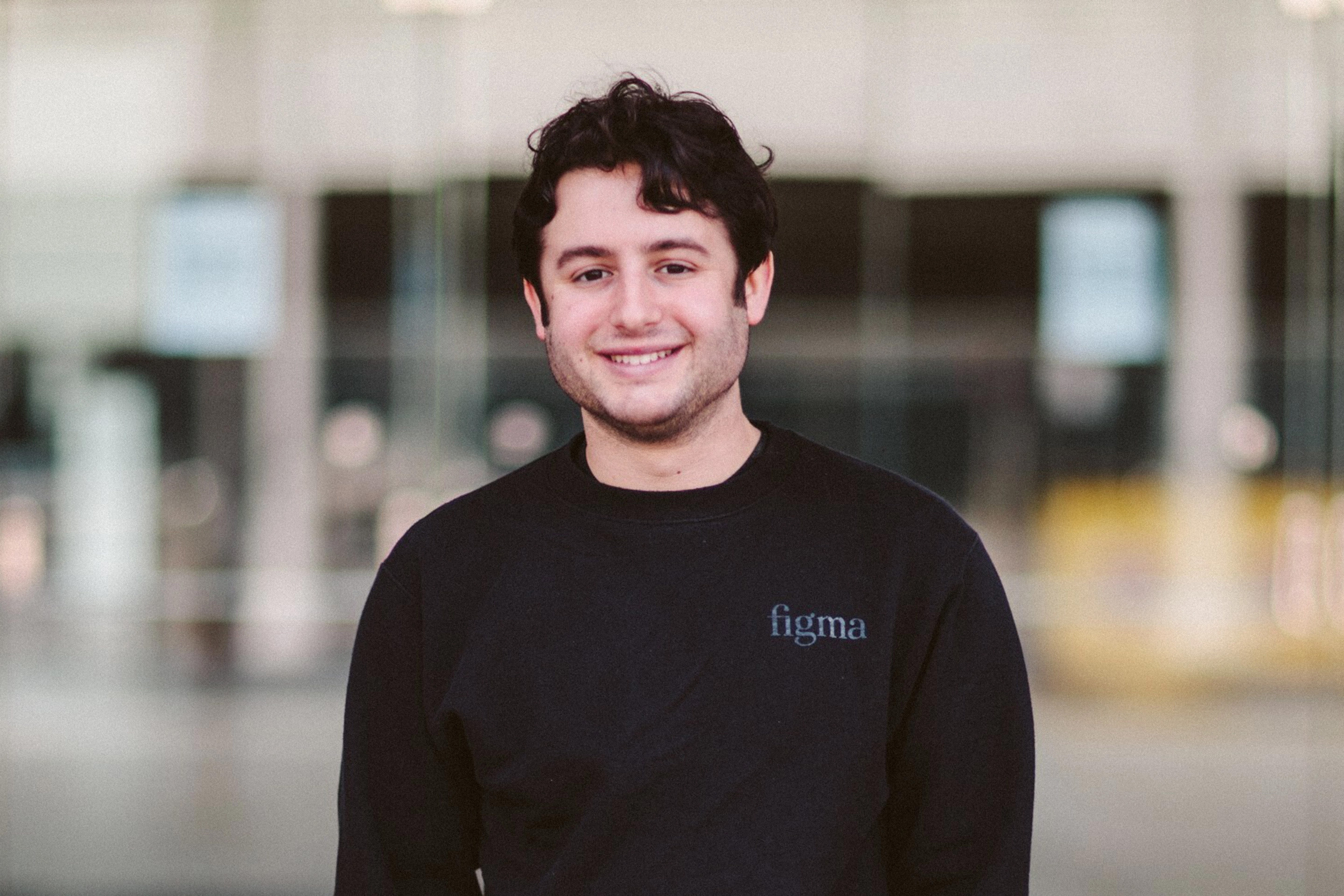 How Dylan Field Won Over the Haters
The co-founder of Figma discusses his transformation from intern to CEO bringing collaboration to design.
When Dylan Field was five years old, he got really into acting. Field won his first role in a local play because, he says, he had two very valuable skills—"I could sit quietly, and I could read"—but he was soon successful enough that he had agents in the Bay Area and Los Angeles, and he was booking commercial and TV work in addition to theater. (His credits include TV ads for the dot-com bust eToys as well as Windows XP.)
The capacity for in-the-moment collaboration is a hallmark of the acting process. You can't be a good actor unless you're fully alive to what your scene partners are doing at any given moment. The big bet Field made with Figma, a San Francisco company valued at $10 billion that's changing the way designers do their jobs, is that this quality could elevate another creative practice as well: design.
When I suggest this connection to Field, he acknowledges how his previous life as an actor relates to the essence of Figma, even if he might not have set out with acting explicitly in mind when he and co-founder Evan Wallace hit the drawing board.
"That energy of play, of 'yes-and' in an improv sense—you really do want to enable that for people working in a collaborative space together," Field says. About a decade after he left acting behind (which happened right around puberty)' that's exactly what he would do with Figma.
---
During high school, Field fell in love with web development and design. He started making websites for friends, and an internship at American learning company O'Reilly Media deepened his interest in the wider tech world.
By the time he landed at Brown University, Field was still considering other trajectories outside of tech—he took some political science classes, contemplated a career in law, and even thought about returning to acting. But his fate was sealed when, the summer after his sophomore year, Field went to intern for Flipboard. Field admired Flipboard's fluid and intuitive design, which tried to replicate the feeling of reading a magazine for a screen. Interning there deepened the sense he'd had, ever since he started making websites for his friends, of design's essential importance and value to individuals and companies trying to stand out in a crowded, competitive world.
He took a semester off during his junior year to return to Flipboard for six months, and that was about when he met Evan Wallace, a fellow student at Brown, who had already interned as a software engineer at Microsoft and Pixar. They started discussing the idea of building something for design that could work in the browser. Field had been blown away by Wallace's experiments with WebGL, which allows designers to seamlessly render graphics in the browser—including a demo called "Water" that WIRED called "one of the more impressive WebGL demos we've ever seen"—and they'd convinced him that the sky was the limit for what could be done in that space.
They applied for the Thiel Fellowship and received $100,000 over two years to support their new company, which they originally thought might focus on photo editing or computational photography. In talking with other Thiel fellows, Field realized that he wanted to swing for the fences. And in his mind, what could be more ambitious than building a collaborative Photoshop in the browser?
If this sounds like a foregone conclusion, pause for a minute. In our Google Drive-driven world, it's easy to forget just how ambitious this idea seemed back in 2013, and how massive a challenge Field and Wallace had set for themselves. While Google Sheets and Docs had already begun making their mark, the concept of a browser-based Photoshop that facilitated real-time collaboration, and eliminated the need for files, still felt a little like suggesting that you should go build a skyscraper with Roombas.
Field and his team weren't just setting out to make a Photoshop clone, either: They were setting out to change the way that design was done by teams of all sizes. Designers at this time were constantly sending files back-and-forth, and plagued by a problem that all of us (of a certain age) remember: You go to open a project, spend hours working on it, then realize you've been operating out of a version that's two days old.
Figma sought to make this mistake a thing of the past. But it foregrounds the idea that working together on a project is good.
For designers—who had cut their teeth on a computer, in a room by themselves, working without interruption for days on end—this idea could be jarring.
"Not everyone agreed with what we were doing," Field says. "There were some good hater comments, for sure. One of the comments on Designer News when we launched was, 'If this is the future of design, I'm changing careers.' Another one that I really liked was, 'A camel is a horse designed by committee.'"
"It's this notion of, 'design is not a collaborative thing,'" says Andrew Reed, the partner at Sequoia who led the $40 million Series C investment in Figma that was announced in February 2019. "It was met with a lot of derision and skepticism when it launched."
JOIN OUR MAILING LIST
Get the best stories from the Sequoia community.
To overcome the skepticism, Figma couldn't just be good. It had to be undeniably good, so good that it would win over even the haters.
"[Figma] has to do the same stuff you have to do in other collaborative tools, but it's a drawing product," Reed explains. "If you're typing and your keyboard is a little bit slow to show text, that's one thing, but if you're trying to draw something and your cursor drags a little bit, you screw up. The margins are so thin."
These challenges proved to be greater than either Field or Wallace had anticipated. They began building what would eventually become Figma in June of 2013. They didn't launch their closed beta until December of 2015. And they didn't charge their first dollar until the summer of 2017. This period of development wasn't easy, not only because of the intensive technological challenges, but also because Field had to keep his team focused and motivated while making a breathtakingly swift transition to being a CEO.
"I was just not a very good manager when I started Figma," Field says. "I mean, I was an intern before that. So I had a lot to learn. I was always very optimistic; I thought that shipping was right around the corner, so I wasn't setting expectations correctly."
"I was always trying to go for the home run on everything, and I was pushing super-hard on the team, but also giving them not a lot of empowerment," he continues. "If you hire smart people, you want to empower them to go do what they do best, and I was not doing a good job of that."
The situation grew dire enough that the senior members of his team eventually staged a sort of managerial intervention. "It wasn't like, 'You need to leave,'" Field recalls. "It was like, 'You need to get some help.' Afterward I took a few days away from the office. It was just hard."
In response, around August of 2015—two years into development—Field brought on Adobe veteran Sho Kuwamoto to be the director of product. When Kuwamoto started working at Figma, he saw the frayed nerves immediately. He understood that part of this came from the pressure-cooker dynamic of so much time invested without a salable product to show for it. But he also witnessed the management struggles to which Field alluded.
"One of Dylan's superpowers, and his kryptonite at the same time, is he really cares a lot about making sure that everything's going to be successful, so he'll just put everything into it."

SHO KUWAMOTO
"A designer might say, 'Hey, I think we should do this,' and Dylan would say, 'You know what, I think those corners are a little bit too round, let's make them a little more square,'" Kuwamoto says. "One of Dylan's superpowers, and his kryptonite at the same time, is he really cares a lot about making sure that everything's going to be successful, so he'll just put everything into it. But if you're a young founder and you want everything to go well and you have ideas about every aspect of what that might look like, you're just going to go in there and you're going to push on everything."
Field describes Kuwamoto as like a late co-founder, who helped him understand how to manage and lead his team in a more productive and holistic way. Instead of obsessing over small details, Field learned, with Kuwamoto's help, how to step back and let the people he'd hired do their jobs while still being a supportive and helpful presence.
Field says that both his management abilities and the company's culture improved exponentially as a result of this shift in thinking: "Sho really changed my mindset around how to set guardrails correctly so that you're clear upfront about, 'Here's a space to explore in and here's the strategy or 'here are the things you should know going into it, but then go explore on your own and come back with a solution and let's talk about it.'"
---
When the closed beta finally launched in December of 2015, all of that doubt and anxiety that had accumulated during the development process quickly turned into excitement. Waitlists formed, and ever since they started charging for Figma in 2017, there's been nothing but forward momentum.
While you could view the company's success as having happened in spite of the unusually long development period, Reed believes the opposite: It's because they took so long to get everything exactly right that Figma has become such an undeniable product.
Also, it turns out, you can design a horse by committee. Or maybe it's just that there's nothing wrong with camels.
"This company is considered to be so unique in its market [because] it's not like there is a second-tier company," Reed says. "They're the ones who make the product that works."
And Figma isn't just functional—it challenges assumptions about what design is and who can do it.
"In other products, there's about a trillion buttons…" Reed says, and I add that it feels like you need a course to use them. "You do need a course! But because there's this approachability, [Figma] is a canvas, and we all know how to operate within a canvas. The way that it lets people into the product design and product building process without requiring coursework, I think it makes the market much bigger."
"Figma's market is people who have to design things for screens," he continues, "and we all stare at screens all the time. That's basically every company in the world now. If that's the core part of most companies, it stands to reason that most people at those companies should be using Figma, and that's kind of happening."
Meanwhile, Field had successfully bridged the gap between the roles of creator and CEO. In a sense, it's another lesson that could be drawn from acting, even if this one took a little longer to sink in: The work and the team go hand in hand. Just like how an audience can tell if a group of actors like and respect each other, a company's product will reflect the mindset of the people making it.
"It's kind of meta, but just like you're building a product for your users, you're also building the company for your team, and you're building a culture for the team," Field says. "Of course, everyone's building it together, so it's not like you're just the one doing it, but when I hear about people whose lives have changed in some positive way because of working at Figma, that makes me really happy."