New Partnership: From Spring Reflections to Summer Health
Ellen and her team are making health care accessible with one simple text.
By Alfred Lin
Published July 25, 2022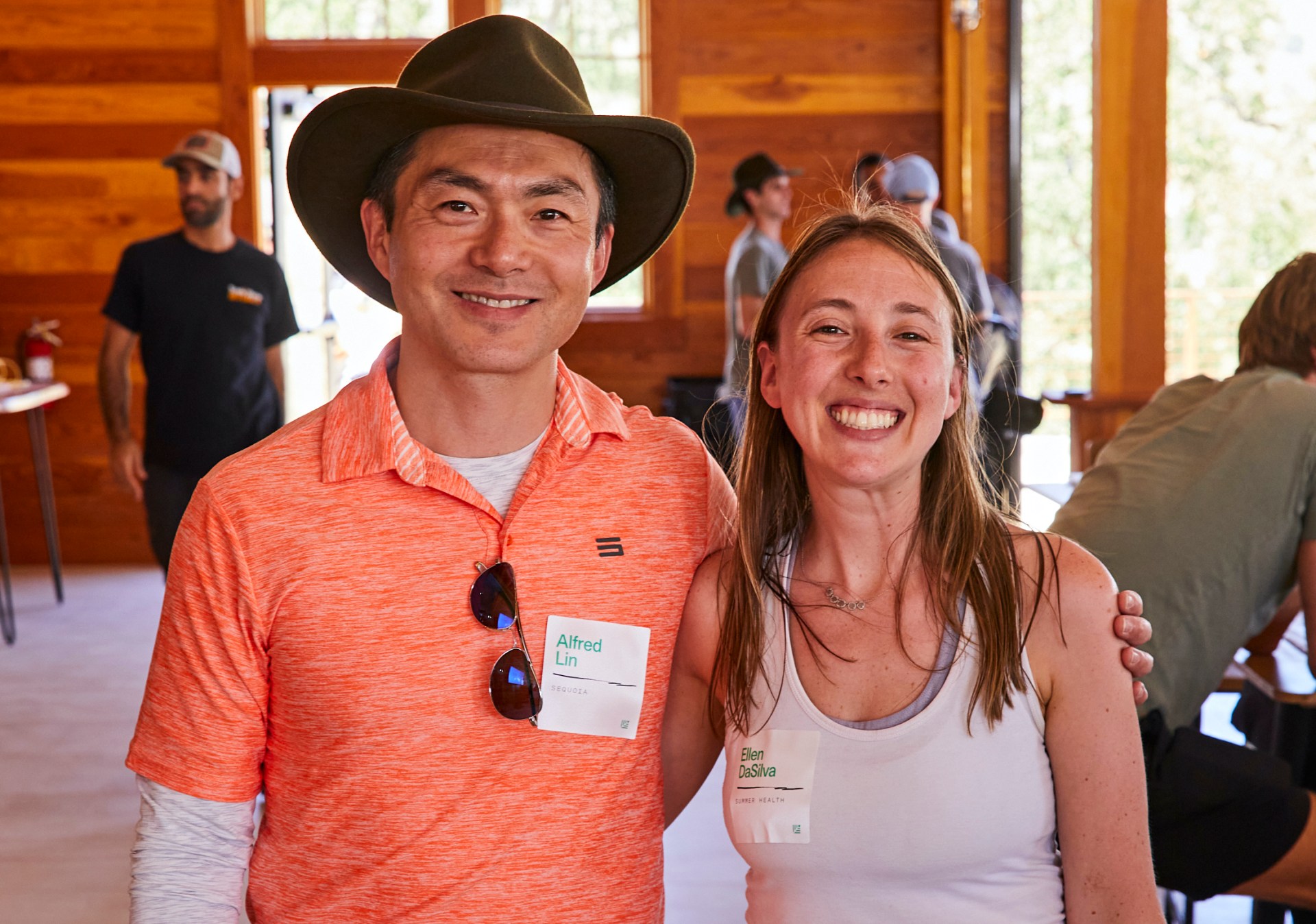 Alfred and Ellen at Sequoia Base Camp.
We had heard about a young powerhouse executive at Hims & Hers, but we didn't get to meet Ellen DaSilva until April 2020. Our originally scheduled coffee meeting, planned to discuss her potentially joining Sequoia's Scout program, moved to Zoom in the midst of the chaos and lockdowns of COVID. It would have been understandable if she had canceled or postponed. It also would have been understandable if the tone of the meeting was pessimistic, awkward or dark. But that wouldn't be Ellen. Even with a bunch of curve balls thrown at her, her effervescence came through Zoom. She spoke with enthusiasm for consumer health businesses and clearly believed people were being underserved by most current options. We were blown away by her clarity of thought, and invited her to be a Scout.
A year later, Ellen and her husband welcomed their second child. A casual reach out to send warm wishes to her and her family led to a mutual gripe session over Zoom about our health system, and in particular, pediatrics. As a mother, Ellen has spent hours at urgent care and waiting by the phone for her primary pediatrician's office to call her back for a quick consult. Again, it would have been understandable for her to feel dejected—but that wouldn't be Ellen. All she saw was opportunity.
Ellen observed, researched and asked, "Why?" During that brief conversation with her, we learned that the average American waits more than two hours at the emergency room, and—as Ellen had recently experienced firsthand—two weeks to see their primary doctor. Particularly for families with young children, the time adds up quickly: the average parent accesses their pediatrician an average of 10 times per year in the first two years of their child's life, and 4 times per year thereafter. As she dug into these stats and more, Ellen was full of enthusiasm about finding a better solution.
After those spring reflections in 2021, Ellen continued to learn more about our health system from both parents' and pediatricians' perspectives, speaking to as many people from each group as she could find. By summer, she was asking herself two questions: Was she ready to dedicate her life to helping people access care, perhaps starting with pediatrics? And if so, how could she best accomplish her mission? These were the musings of Ellen DaSilva on maternity leave.
Fall was back to work at Hims & Hers, an organization where she had started as employee #8 and helped it grow into a public company. At first, she was glad to be back, seeing familiar faces and getting some professional​​—and adult—interactions. (We all love our kids, but they drive us nuts, too.) While it was energizing to reunite with friends and colleagues, the same nagging question kept popping up in Ellen's mind. How can we radically simplify access to pediatrics care?
As the cold November winds settled into NYC, Ellen asked herself what she would regret more: Pursuing that dream and striking out, or continuing her steady climb in the world of major public healthcare companies but never taking a swing? Founding moments start with the daring to overcome your fears—and Ellen knew she would regret not trying far more.
After telling her family and friends around Thanksgiving, Founder Ellen incorporated Summer Health in December 2021, and Sequoia was fortunate enough to become the company's first outside shareholder. With that initial check of $1M, Ellen built out the alpha version of her product to test her hypotheses, recruited co-founder Matthew Woo and a small crackerjack team of seven, and rebuilt and launched the beta product while onboarding the first parents and pediatricians. Just more than six months in, families in all 50​​ states are now able to connect with a Summer Health provider via a simple text message—and get treatment, prescriptions, referrals and more in just 15 minutes. This velocity in execution speaks for itself, both for Ellen as a highly effective founder and for Summer Health as a highly compelling offering that's instantly seen clinical and customer demand.
Today, we are thrilled to make the product available to everyone through the public beta and announce that Summer Health has raised $7.5M in total seed funding, co-led by Sequoia Capital and Lux Capital. But while this is a milestone worth celebrating, we are most excited to see how Ellen and her team will continue working toward a universally powerful mission: to radically simplify access to care.