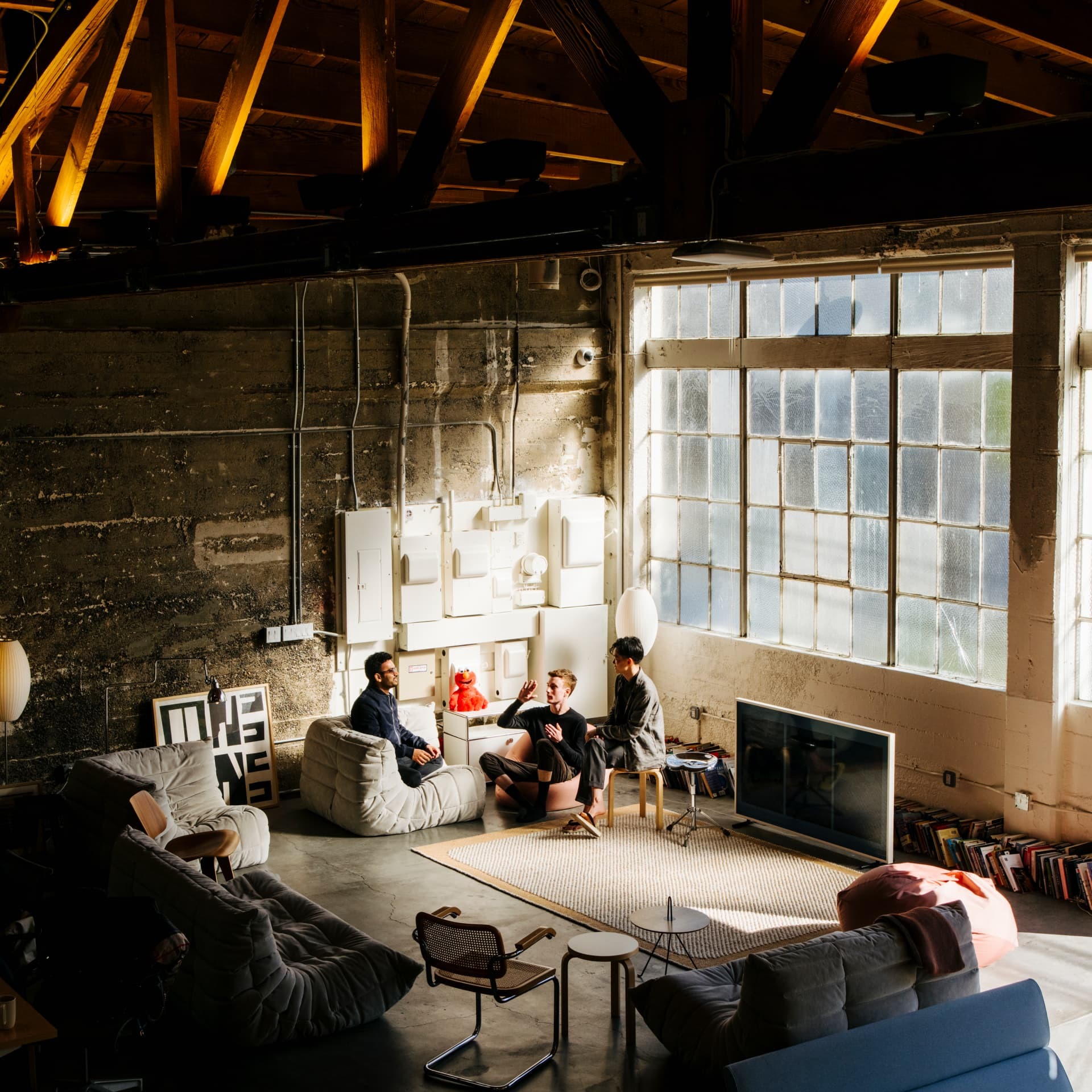 Augmenting Human Intellect, No Code Required
Photography: CAYCE CLIFFORD
Notion's co-founders are growing an enduring business by nurturing the creative community.
In 2015, Notion co-founders Simon Last and Ivan Zhao had removed from their lives anything that wasn't writing code and eating noodles. Three years into building their startup, they scrapped the code powering their app. They were running out of money. They'd just laid off their only colleagues. And to stretch what money they had left, they'd moved from San Francisco to Kyoto, Japan, which was less than half as expensive.
In the downstairs of a rented two-story house so small that only a traditional Shoji screen separated their bedrooms, Zhao says they spent 18 hours a day at their laptops, not bothering to dress, clean or cook. "We were just, code, code, code," Zhao remembers. "Then, 'Hey, let's go out for food.' Then, we go eat, go back to work, and do it again." Neither man could speak or read Japanese, but Zhao is from China, and he could read the menus well enough for them to figure out "beef" or "chicken." (About 70 percent of the writing, Japanese Kanji, was similar to the Chinese Hanzi he grew up reading.)
"We were just, code, code, code. Then, 'Hey, let's go out for food.' Then, we go eat, go back to work, and do it again."

ivan zhao on his time in kyoto
The 20-somethings didn't mind the drudgery or the lack of personal space. They were consumed with reinventing a piece of software called Notion, and if they couldn't figure out how to turn it into an everyday tool people would want to run on their computers or smartphones, they would have laid off their friends, burned through millions in angel investment and wasted years of their lives for nothing.
The two believed Notion was worth this effort because they were trying to make it into something that would revolutionize people's relationships with computers and software. They wanted to make software that could empower a global community of everyday people to make their own apps and tools without having to write code, all to unlock new levels of creativity and productivity.
Today, having added a third co-founder in COO Akshay Kothari and grown from a cult following to more than 20 million users, Notion has a multi-billion-dollar valuation and is aiming to unseat Microsoft 365 and Google Workspace as the enterprise-level collaborative productivity software. By all accounts, the mad dash in Kyoto paid off. The founders have time to dress properly, and even enjoy the occasional home-cooked meal. But, in many ways, their biggest challenges are still ahead.
---
In 2013, Zhao and Last raised about $2 million from angel investors—a mix of friends, family and friends of friends. Zhao, who had learned to code as a child, had a big vision—to enable people to use any computing device with the same creativity and flexibility that they bring to their writing, allowing them to approach devices as a new medium, whatever that might mean someday. Zhao was trying to make good on ideas that he describes as romantic, ones developed by his idols: tech pioneers Alan Kay, Ted Nelson and Douglas Engelbart. These men saw computers as a way to help humans be more imaginative, more creative, more capable of leveraging intelligence in ways not yet imagined. In the 1960s and '70s, these men, particularly Engelbart, envisioned a future in which people used computers to design their own software to accomplish whatever they wanted.
Today, billions of us use computers, yet only 0.34 percent of the global population are software developers. Most everyone has to download an app or run a piece of software to accomplish a task. Zhao compares this to how, prior to the spread of literacy with the invention of the printing press around 1440, only clergy and scribes could read and write, so the rest of the population never composed great works of literature, soul-stirring poetry or world-changing scientific research.
In San Francisco, while Zhao still believed he was right about his grand vision, he realized he was wrong about his market. It was a crucible moment. The first version of Notion was a tool that non-coders could use to make their own apps. Disappointingly for the co-founders, it turned out, even if they were Last's and Zhao's actual friends, non-coders didn't want app-building software. "It was not really a product," Zhao says. "It didn't work because the product was not understandable for most people. It was more for nerdy tech crowds. We realized, in order to be a big software tool, we have to start from a product that is already ubiquitous, that people recognize, and hide the tool-making, hide the programming ability, like how you sugarcoat broccoli. Nobody wakes up wanting to make software. Well, very few people."
"It was not really a product," Zhao says. "It didn't work because the product was not understandable for most people."

ivan zhao on the first version of notion
Most people, he reasoned, wake up and want to use their computers to browse the internet, to write or to solve a work problem. Even though he had started Notion to help humans use computers for more than word processing, he realized this new version would have to be just that, only built with some flexible tool-making capabilities layered in—closer to, he imagined, the kind of software his idols had once envisioned. However, when they rolled out this new Notion to their friends, they saw the framework they'd chosen to build with, a Google web framework called Web Component, crashed constantly. "Bugs came from everywhere," Zhao says. "It was unstable. People were losing their content." Zhao and Last would have to start over using the more stable React Libraries (now the market leader), just as they were burning through the last of their investment. Some of the earliest team members had already departed, and retaining the rest was growing more untenable by the day.
"I thought [investing] was a mistake, because the company didn't go anywhere. It almost ran out of money."

Akshay Kothari
"It was kind of like despair, I would say. I almost never had that feeling before," Zhao remembers. Things looked pretty bad from the outside, too, says Kothari, who had been one of Notion's angel investors. He and Zhao met every six months or so, sharing insights and suggesting possible employees. "I thought [investing] was a mistake, because the company didn't go anywhere," he says. "It almost ran out of money."
Last had joined Notion while in college, so as the older founder, Zhao was left to decide how to save the business: "And that feels like—fuck it. Let's just reset this." Now just the two of them, Zhao and Last wanted to go somewhere cheaper than San Francisco, and somewhere they'd never visited. They picked Kyoto, almost on a whim, and subleased their spaces in San Francisco.
"It was a lot of fun, some of the happiest times," says Zhao. "It was very intense and focused. A brand-new code base is always happy. There's no legacy code. You don't need to clean up the whole thing. It's almost like you have a brand-new house—you can decorate however you want, versus the old house, you have to clean, repaint the walls and all that."
---
Today, seven years after that sweaty, exciting time in Kyoto, Last and Zhao are back in San Francisco and Notion is working as an all-in-one collaborative productivity software. Their bright, loft-style offices have sisal mat floor coverings, Michel Ducaroy's famously curving Togo couches and Alvar Aalto's iconic, simple wooden Artek stools. The tones are neutral and warm. Zhao refers to overhead fluorescent lighting as "hell." He chose all the furniture and finishes, putting as much thought into the offices as he has into the product. A portrait of Engelbart hangs prominently in a first-floor hallway.
Notion is staking a claim in a market dominated by giants—Microsoft and Google, with more than 2 billion users between them. Yet, Zhao says, within a decade, every software company could be considered a competitor, because Notion will eventually be able to make any kind of tool, or will be able to integrate with countless pieces of software. Today, Zhao estimates Notion can consistently replace about a dozen pieces of software like project-management or list-making tools. This matters because the software-replacement opportunity is massive: companies with more than 2,000 employees use an average of 175 pieces of software, and smaller companies use an average of 73, according to Okta's 2021 Business at Work study.
At its most basic, Notion enables people to use just one interface to make, edit and customize documents; to manage projects; to create information-sharing wikis; and to design all kinds of charts and tables. It set itself apart from competitors—which also include Dropbox, Atlassian and Oracle—through a growing set of clever, built-for-purpose templates such as to-do lists, product roadmaps and client databases. There is a whole Notion-adjacent economy, filled with quirky templates, like this album credit tracker for Beyonce's "Renaissance," created by Notion-optimization consultant Frances Odera Matthews. Notion's design also distinguishes it, with a restrained, black-and-not-quite-white aesthetic. "It's brown," Zhao says, pointing to what very much looks like the white background of a Notion page pulled up on a laptop. "You can't see it, but you can feel it." Notion's biggest differentiator is how users tailor it to their personal or professional needs by incorporating whatever mix of blocks—charts, databases, notes, videos, photos, lists, maps—they want to use to accomplish a task.
"I'd never had a guest come to the office and touch the tables, and appreciate the quality of the leather of the chairs. I marveled to myself, 'Who is this man?' He is so discerning and so curious."

dannie herzberg
Sequoia Capital partner Dannie Herzberg is proud to be among Notion's "power users," running her work life on it. She was head of enterprise sales at Slack when she met Zhao, who visited the offices often to learn from the company's startup journey and lay the groundwork to make Slack Notion's first integration. Zhao had cold-emailed Herzberg, saying he was a fan of how Slack built its product and brand, and, impressed by the energy in the email, she invited him to drop by the office. "He came to the Slack office, which was brand new and very nicely designed in this midcentury-modern way. I'd never had a guest come to the office and touch the tables, and appreciate the quality of the leather of the chairs. I marveled to myself, 'Who is this man?' He is so discerning and so curious." Herzberg liked Zhao so much that she downloaded Notion immediately.
Sequoia partner Mike Vernal, a former Facebook vice president, was an original Notion angel investor back in 2013. Soon after joining Sequoia in 2016, he noticed startups increasingly running their businesses on Notion, using it to send memos or make decks. Sequoia led Notion's 2021 round of $250 million. "For a two- or three-year window, Notion was high on our list of companies that we admired from afar," Vernal says. His impression of founders flocking to Notion is more than anecdotal. Zhao says that 68 percent of the most recent Y Combinator class ran their companies on Notion. "And they're the future Fortune 500 companies," he says. "So it's less about where we are today, but it's like, we want to be the place where future companies are operating." That said, with the new investment money, Notion and its backers also want it to be the place companies are operating today.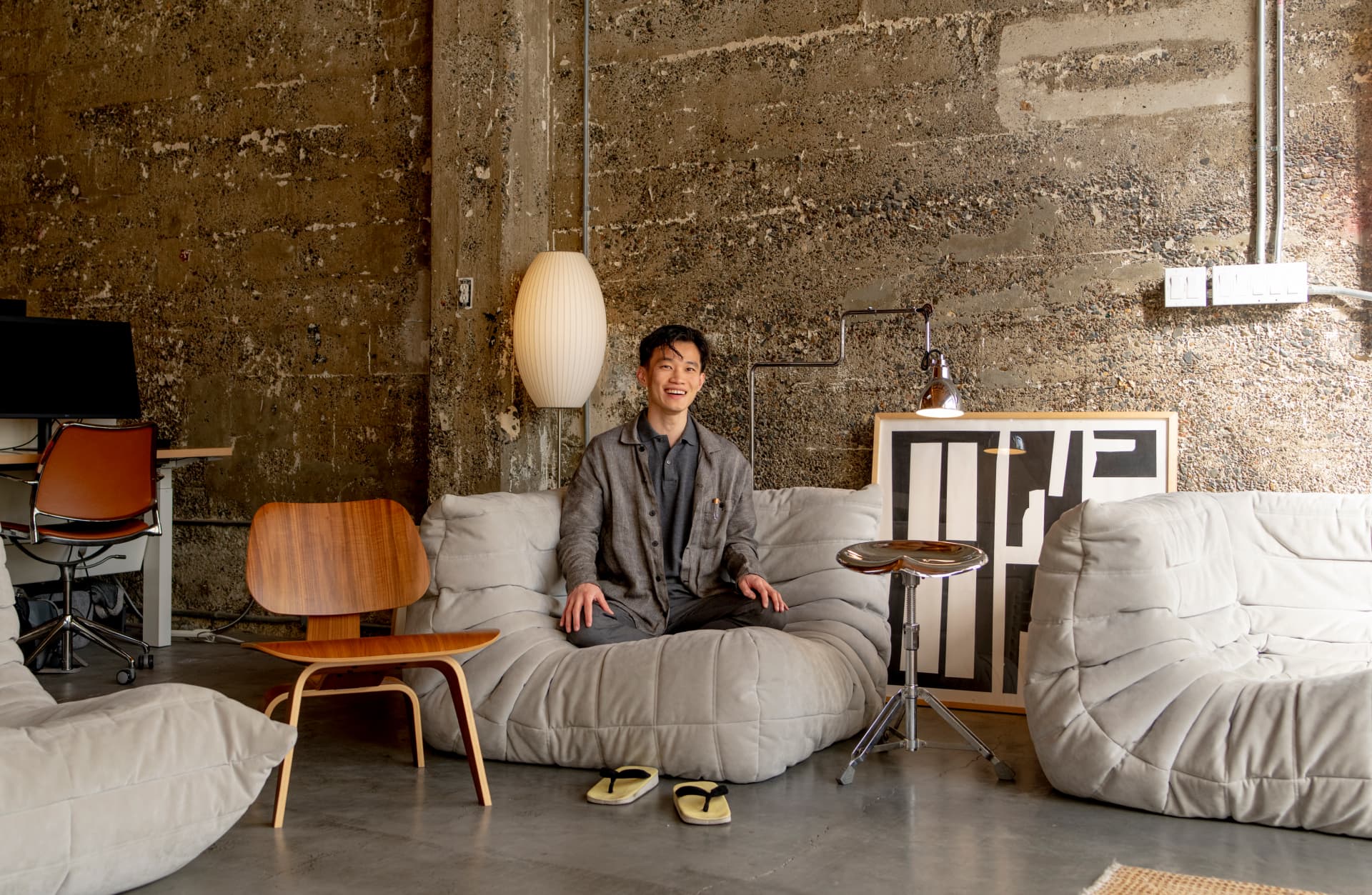 Zhao grew up with his mom in Ürümq, a city of 4 million in China's northwestern Xinjiang Uyghur Autonomous Region, also known sometimes just as Xinjiang. There, he learned how to code as a participant in the International Olympiad in Informatics, a grade school mathematics and computer science competition. He also developed an appreciation for aesthetics as a student of traditional Chinese watercolor. When he was in high school, his mom wanted more for his education, so she moved them to Vancouver. On the west coast of Canada he learned English from watching "Spongebob Squarepants."
Zhao attended the University of British Columbia, and, figuring he already understood computer science, focused on cognitive science and art, having picked up photography his senior year of high school. He says his artist friends helped him hone his sense of aesthetics, watching movies with his film studies friends, helping his then-girlfriend and her friends with fashion school portfolios. In 2012, as he prepared to graduate, many of his friends needed online portfolios. "I'm the nerd of the friend circle, so I started coding people's websites for them. And there were no good tools," Zhao said. "They're all kind of ugly, right?" He made maybe five websites. "Then, I realized, it doesn't make sense. Those people have taste; they just don't have good tools."
"Then, I realized, it doesn't make sense. Those people have taste; they just don't have good tools."

ivan zhao on early website builder software
Around this time, Zhao read a 1962 paper by Engelbart called "Augmenting Human Intellect: A Conceptual Framework" that crystallized his thinking. Engelbart conceived of computers as a way to increase humanity's capacity to solve complex problems, not to just run computations, which was the bulk of computer work at the time. He wrote, "Increased capability in this respect is taken to mean a mixture of the following: more rapid comprehension, better comprehension, the possibility of gaining a useful degree of comprehension in a situation that previously was too complex, speedier solutions, better solutions…."
While humans were routinely using computers to do this kind of work by the early 2010s, when Zhao was reading this paper, he saw that a crucial element of Engelbart's vision was still missing. Nearly all people now relied on computers to help them do all kinds of things, yet most couldn't write their own code. And until more people could do that, Zhao felt that the real promise of human-computer interaction would be limited to the creativity of coders, who tend to write software that solves their own problems, or they write software that people will pay to use. They don't write hyper-specific code to do a clever, unique thing an individual person wants to do.
"I was like, 'Holy shit. This is what I'm going to do.' There's nothing else that has more leverage to use my skill set than to help people to use their computer beyond just a typewriter. At that point, that's where Notion's idea got formed." Zhao became obsessed with democratizing access to the tool-making ability of coding. He saw the idea of people being able to make their own software as integral to their ability to be creative, to shape their own environments, to create culture and value. He wanted coding to stop being a tiny community of specially educated people. He envisioned a tool that could turn the world into a community of no-code software builders.
"I was like, 'Holy shit. This is what I'm going to do.' There's nothing else that has more leverage to use my skill set than to help people to use their computer beyond just a typewriter."

ivan zhao
Zhao started working on the first version of Notion while day-jobbing at the ebook startup Inkling in San Francisco. But within a year or so, he left Inkling and started to assemble his team. Zhao and one of his early Notion colleagues were members of a "small scene" of people passionate about visually oriented programming environments who followed each other on Twitter, sharing projects and insights. The colleague mentioned one of the people in the scene, a student at the University of Maryland, College Park, named Simon Last, was doing interesting work. Zhao looked at his portfolio, which featured, among other things, code that enabled people—kids, presumably—to add body parts to a creature based on their answers to either/or logic gates. Zhao reached out and asked Last for a meeting. He offered Last an internship, showing Last the same Notion prototype he'd shown Kothari during the investment conversation. "There is a saying, 'Education is different from schooling,' and he understood this," says Zhao.
Zhao remembers sneaking Last into a nearby bar, the Trick Dog. It shared a bathroom with a coffee shop, so Last would go in the coffee shop and come out via the bathroom into the bar. "And then he decided to drop out of school and just work on this full time with me," remembers Zhao. Last's dad visited to appraise Zhao, perhaps suspecting the men were doing things like sneaking into bars. "His dad's a school principal," Zhao says with a laugh. "We shook hands, [I had to show] I am not a crazy person."
---
In March 2016, after the year in Kyoto testing iterations of Notion's functionality and design, endlessly pulling up pages on the design software Figma, Zhao editing in one area, Last finessing elsewhere, they launched Notion 1.0. This version had Notion's iconic, black-and-not-quite-white look, and the ability to do word processing, of course, as well as to make drag-and-drop to-do lists and wikis, and it had more than 30 document templates for things like product roadmaps. The men didn't yet charge to use Notion; they wanted to grow users first. Zhao's mom loaned him $150,000 to keep the startup afloat.
To get users, Zhao and Last hatched a plan to get Notion featured on Product Hunt, a site that lets people submit tech products on daily lists for the community to comment and vote on. The product with the most votes in 24 hours earns additional promotion, as well as international tech-community hype. Their plan involved asking the famed entrepreneur and investor Naval Ravikant, who had invested in Notion early, to wake up at midnight, when the new day's list opened, and to tweet to his followers to vote for Notion on Product Hunt.
"And he has a bazillion Twitter followers," says Zhao. (Today, Ravikant has slightly less than a bazillion, at 1.9 million.) The gambit worked. "That kickstarted our product on Product Hunt. We got a lot of traction there." Soon, tech insiders, people involved with Y Combinator and other startup incubators, were using it. That's how Vernal and others at Sequoia started seeing Notion pop up. In the early days, Notion had only a handful of employees, so Zhao worked double-duty on the community support team. He says this helped him understand how to make Notion more useful, and it gave him a sense of Notion's growing community—people smitten with the minimalist aesthetic, or who loved customizing templates to make book-reading logs or skincare diaries. As he readied Notion for a 2.0 version, Zhao would also reply to users directly on Twitter, building community there by showing that real people were behind the product.
"They found a small group of really die-hard fans that carried the product with them. They looked for ways to cultivate the community at every step along the way."

mike vernal
Vernal said this focus on nurturing community was key to getting a foothold in the product world. "It would be futile and foolhardy to try to compete with Microsoft and Google in a top-down way, to build a similar product and sell against them," says Vernal. "Instead, they found a small group of really die-hard fans that carried the product with them. They looked for ways to cultivate the community at every step along the way."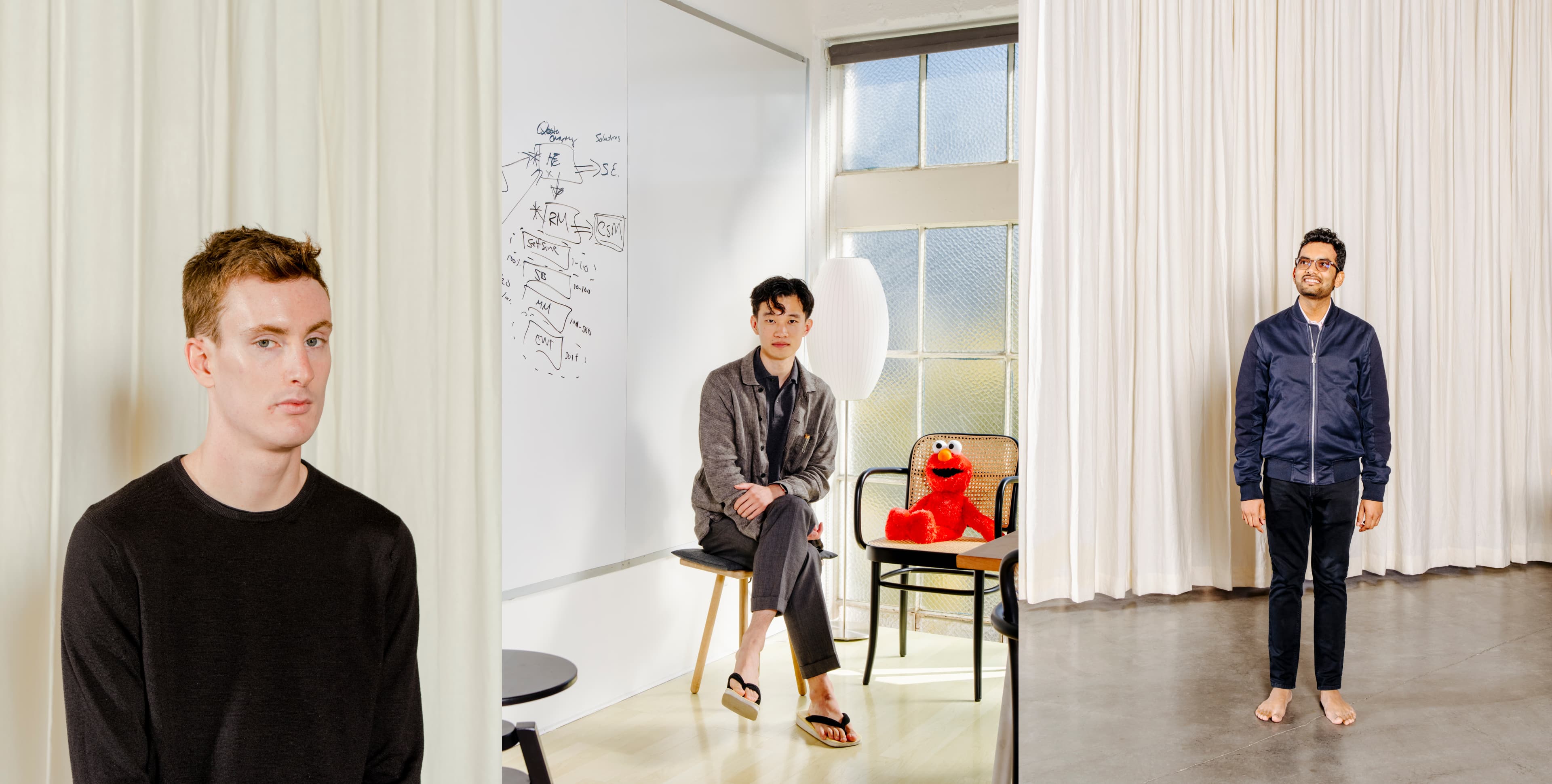 The Notion community ballooned in March 2018 when David Pierce, then the personal technology columnist at The Wall Street Journal, wrote a glowing review of Notion 2.0. The headline read: "The Only App You Need for Work-Life Productivity." The article called the updated version a "rare renaissance app." This new version featured new project management capabilities and relational databases, the kinds of everyday tables and spreadsheets that power countless projects and companies. Notion's innovation was letting users configure views of those databases in customizable ways, so different people could see the same information presented in different ways. They started charging users monthly subscription fees between $4 and $10, and began turning a profit.
Zhao was unfazed by this success. He focused instead on evolving the product toward his original vision of empowering people to make their own tools, and on growing Notion as a business. The team was only about eight people, but he had just the person in mind to call to help them grow into their next phase. That summer, Kothari, one of Notion's angel investors, was working for LinkedIn in India, and was visiting San Francisco. He and Zhao met up, just as they always had. This time, Zhao offered him a job.
Kothari was born and raised in Ahmedabad, a city of 8 million in India's western Gujarat state. His parents sacrificed to send him to school in America, so Kothari says he did nothing but study when he got to Purdue University in Indiana. After graduating in 2007 with a degree in electrical engineering, he worked for an alum at a Los Altos, California, investment firm. After a year, he didn't get the H-1B visa he'd need to stay working in America. As a backup, he'd applied to Stanford University, knowing that if he got in, he could remain in the country as a student. There, Kothari, liberated because he was paying his own way, took a design thinking bootcamp course just because it sounded like fun.
"It's like, everybody can be a designer. You can be a designer. I can be a designer. And I was like, 'This sounds amazing,'"

Akshay Kothari on stanford's design thinking workshop
"It's like, everybody can be a designer. You can be a designer. I can be a designer. And I was like, 'This sounds amazing,'" Kothari remembers with a laugh. "And we did all sorts of really wonky projects. As an electrical engineer, I was like, 'Oh my God! What did I sign up for?' I think the first project was to redesign how people eat ramen noodles. I was pushed to go talk to people in supermarkets when they were buying ramen. And just talk to people in restaurants, observe how they're eating ramen, and see if you can change something about their experience. And I felt so uncomfortable, but I stuck with it."
As part of a class project in 2010, he created the news aggregation app Pulse in about six weeks and soon turned it into a business. A year later, Zhao posted on the blog Hacker News that he was moving to San Francisco to find a job. Kothari was a heavy user of the site, visiting multiple times a day to weigh in on conversations, to see what other developers were up to and to recruit. Kothari remembers that when Zhao posted, he shared a game app he'd developed in 2010 called "Three Degrees of Wikipedia," which is no longer available. Wired wrote about it, and the Apple App Store featured it. Zhao remembers the day when he suddenly started making money from it in $.99 cent increments. "That day felt like Christmas. I was playing basketball and found out, and I was like, 'What the fuck?!'" he says with a laugh. Kothari said he thought it had a beautiful, clean design, and he happened to be looking for a designer. "I reached out on a whim," he said. (Kothari still has the email.)
Zhao chose Inkling instead. Within three years, Kothari had sold Pulse to LinkedIn for $90 million, and Zhao had started Notion. It would be Kothari's first investment. "I still remember his pitch. And at that point…it was really just the ambition of the project that resonated with me," Kothari says. "He's out there, just trying to democratize software, make it so that everybody can put these building blocks together." Kothari said he was so impressed with the scope of Zhao's vision that he thought about Notion for months after the pitch, ultimately calling him and offering Zhao a bigger investment. "He was kind enough to take it," Kothari says.
Over the years, Kothari rose through the ranks at LinkedIn, becoming vice president of product and moving to India's tech center, Bengaluru, to help run LinkedIn India as it expanded. So by the time the men met up in 2018, Kothari had built new processes, teams and cultures inside a company with thousands of employees all over the world. He was who Notion needed. After a few months convincing his wife that they could reinvent their lives in San Francisco, Kothari joined as chief operating officer. His first job was six months of answering support-desk tickets. He talked to thousands of customers and grew to understand the use cases and depth of the product—setting him up, he says, to figure out how to build out the rest of Notion. Zhao sees Last as his product co-founder and Kothari as his business co-founder. He refers to Kothari as a human stem cell, a person who can spot any need in the company, design a plan to do the work, master the work and then eventually hire the right person to lead the new team doing that work.
Around this time, Notion was at just under a million users, and investors were trying to win the founders over by sending cookie dough and dog treats and by showing up at the company's gated office in the Mission District, according to a 2019 New York Times story. Vernal remembers Notion's first few offices had a no-shoes policy, and when he sent Sequoia partners to learn about the company, he would remind them to wear good socks. Notion was profitable, so the founders didn't seek official funding rounds. Instead, the company focused primarily on growing the community. They did this, Zhao says, by building relationships with power users. These were the kind of people who took it upon themselves to translate the Notion user guide into Korean because it was only available in English; who ran the Notion subreddit, now with 200,000 subscribers, and who ran the Notion Facebook groups in Korea and the Middle East, both with tens of thousands of members. Zhao saw these people as members of a community, offering them early access to new features, face time with Notion team members and the opportunity to give input on features. He had a hunch that investing in individual users would ultimately get Notion into big companies. He imagined these people would like Notion so much, they'd keep using it at work. Eventually, this hunch would prove right.
---
For two years, Kothari did all kinds of jobs, built out playbooks and hired leaders to run the new teams, before moving on to the next business need. By the start of the pandemic, Notion had about 40 employees and they'd raised about $50 million as an insurance policy against pandemic uncertainty, says Kothari. They needn't have worried, and they haven't spent it. As the world pivoted to remote work, signups grew. After more than a year of pandemic lockdowns, high school and college students started streamlining the overlap of remote school and remote friendship by using Notion to organize their lives—and they were talking about it on TikTok. In viral videos, Gen Z power users would show off the ways they'd customized Notion to help them get more out of their hobbies and to collaborate on school projects.
Then, on New Year's Day in 2021, as Notion workers were relaxing at home, Kothari and Zhao started getting alerts saying Notion had crashed. They'd seen it coming, says Zhao, like a Doomsday clock. Every day of the pandemic added more users, and they were running out of database storage. They knew they needed to move Notion onto multiple databases, but they hadn't prioritized it.
"The investments we made there allowed us to build Notion in a way that it could serve the teenagers using Notion for their use cases all the way to big enterprises using it."

Akshay Kothari on rebuilding to meet covid demand
Bleary from the night before, Notion team members suddenly had to explain to their roommates, spouses and kids that they had to work. The site was down for four nerve-wracking hours. "It was pretty much all hands on deck," Kothari says. Zhao remembers eight-hour Zooms, day after day, after the crash. For the next six months, the company stopped building new features and instead focused on strengthening its infrastructure and migrating to multiple databases. When the work was done, the company celebrated with Zoom karaoke, complete with custom lyrics to "Amazing Grace." Zhao, of course, has a copy stored on one of his Notion workspaces. "It was probably one of the best investments we made," says Kothari. "Because the investments we made there allowed us to build Notion in a way that it could serve the teenagers using Notion for their use cases all the way to big enterprises using it."
---
Kothari and Zhao think a lot about those big enterprises. Today, they are transitioning as a business from a startup to a mature company, and transitioning as a product from a tool with a cult following—the kind that people namedrop in Twitter profiles to show tech-design cred—to a tool used by the world's largest companies. Growth has been rapid since the 2021 investments. As of summer 2022, Notion, which has 70 percent of its users outside of America, had opened offices in Dublin, New York City, Tokyo and Hyderabad, and had onboarded 300 employees, up from about 45 last year. The company is hiring for about 75 more positions. Competition to tell a compelling story to big companies is fierce. Other startups are working to build out similar capabilities; in 2021, Google Workplace added something like Notion's interconnectivity with the launch of Smart Canvas, and Microsoft has done the same for 365 with its Fluid Framework upgrade.
Zhao's early insights about what makes software ubiquitous—the ability to help people solve everyday life or work problems as easily and intuitively as a document editor—is now a key selling point. Notion leaders focus on explaining how, for the everyday office worker, it can be used "out of the box." People and teams can customize it to greater and greater degrees, but average users can install it and start working immediately, using templates in the Notion catalog. In another move toward ubiquity, Notion launched the beta version of its public API in 2021, enabling developers to connect Notion to payment systems and customer relationship managers, further rooting it in a workplace software ecosystem. To make Notion more competitive, the company recently acquired the calendaring company Cron, the software-building company Flowdash, and the cloud integration and workflow automation platform Automate.io.
Kothari and Zhao talk about this moment as still the "early innings" of Notion, and see Notion 1.0 as about lists, Notion 2.0 as about databases and the upcoming Notion 3.0 as about whole workflows. For example, they want to make Notion capable of publishing into varied content management systems with one click of a button. To do this, within the next 18 months or so, they will improve Notion's project management capabilities, among other features, giving the software the final "Lego bricks" it needs to take on most SaaS companies, says Zhao.
"In the next 5 to 10 years, Notion could be the front-end infrastructure for the world. Just dream of a piece of software, and you should just be able to build that using Notion."

ivan zhao
In a perfect world, Zhao sees the next iteration of Notion as changing life as profoundly as the iPhone changed people's personal and work habits. "The iPhone totally opened up creation," Zhao says. "There is a before and an after." To grow the user base enough to drive this change, Zhao says it will take more than 18 months, of course: "In the next 5 to 10 years, Notion could be the front-end infrastructure for the world. Notion takes care of search, notifications, permissions. Just dream of a piece of software, and you should just be able to build that using Notion."
Zhao's vision of creating a community of people empowered to make computers help them be more creative and productive has remained constant. Vernal tells a story about Zhao pitching Sequoia by walking through the last 50 years of computing history, with a narrative arc showing Notion as the next step in decades of iterations. "I thought it was the single best pitch I'd ever seen in my time here, a work of art," he says. "And multiple other people told me that was one of the best pitches that they had seen at Sequoia."
"I thought it was the single best pitch I'd ever seen in my time here, a work of art. And multiple other people told me that was one of the best pitches that they had seen at Sequoia."

mike vernal

That story he told to Sequoia is the one Zhao started piecing together in college, when he read Engelbart's paper about how humans could someday use computers to become more powerful problem solvers. It's a story about how for years before Notion, so many pieces of software were just digitized versions of analog office tools—typewriters, file cabinets, desktop ledgers replaced by online document editors, databases and spreadsheets. Today, with tens of thousands of templates circulating, Notion reflects that when millions of people are empowered to make their own online tools, they mostly design trackers, project management tools and elaborate tables. Already today, some Notion-adjacent businesses are making more than $1 million a year by designing clever templates. On Etsy alone, there are tens of thousands of templates—meal planning, creating an astrology journal, and bootstrapping startup operations. But it won't always look like this, says Zhao and Kothari. As Notion's features become more robust, the tools we make with it will become more complex.
"In the early days, 40 years ago, when personal computing started, the lines were blurry. The computing pioneers thought everybody would make their own tools, make their own software," Zhao says, returning to a favorite idea. "And Notion's mission is about software tool-making." Even if those tools just look like black-and-not-quite-white document editors at first.
JOIN OUR MAILING LIST
Get the best stories from the Sequoia community.