Partnering with Robco: Accessible Automation for the Physical World
With modular robots and an innovative "digital twin" software platform, Roman, Paul and Constantin are helping solve the labor shortage problem.
By Luciana Lixandru, Shaun Maguire and Cornelius Menke
Published December 12, 2022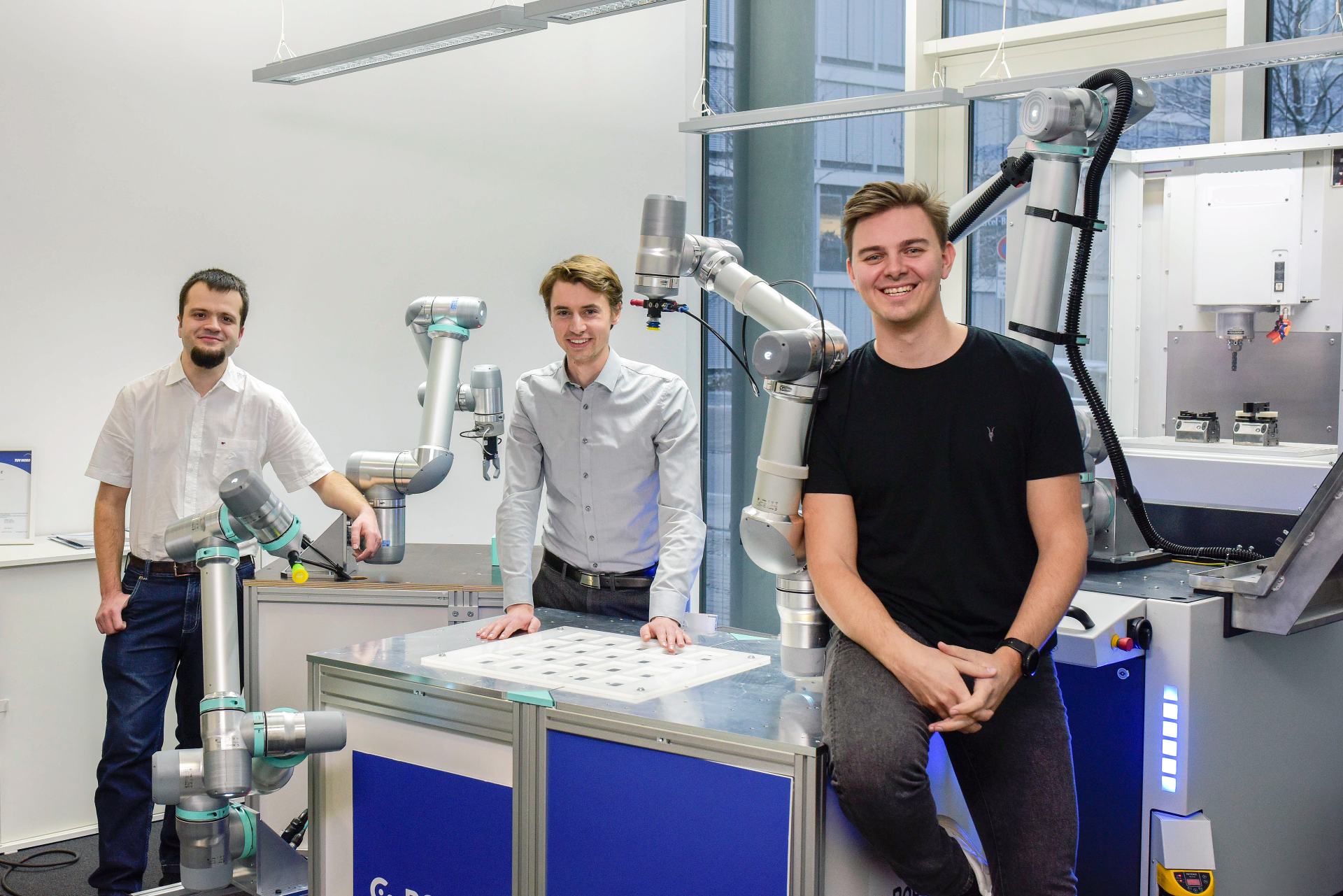 Robco founders Constantin Dresel, Paul Maroldt and Roman Hölzl.
When Robco's pitch deck arrived in our inboxes, we knew we were looking at what could be a truly transformative idea. At Sequoia we had long been thinking about robotics as part of our thesis on the current economy, with massive global labor shortages, supply chain challenges and rising costs combining into a perfect storm that automation has great potential to calm. By handling tasks like machine tending and palletizing, robots can not only boost productivity and revenue, but allow time-strapped employees to focus on more creative work. For Luciana, it was a déjà vu moment—a very similar situation to the one UiPath founder Daniel Dines was working to solve five years earlier when she met him at the Series A, only that had been for virtual processes rather than physical. (In fact, Daniel has noticed the parallels himself and is joining Robco's round as an angel.)
But while we saw a clear "why now" for robotics itself, we also knew that it was a difficult market in which to build a business. Large companies such as automakers were already investing heavily, but most small and medium businesses simply couldn't afford the months—and hundreds of thousands of Euros—required to implement automated systems. In fact, less than 10% of SMBs have any automation in place at all. We hadn't found a company that could make robotics more widely accessible—until Robco.
Co-founders Roman Hölzl, Paul Maroldt, Constantin Dresel and their team have developed a fully modular robotics platform—like high-tech Legos that, unlike current solutions, can easily adapt when a manufacturer's needs change. Every device also comes with fully integrated "digital twin" software that makes deployment incredibly easy and fast; configuring or re-configuring a system takes just a day or two instead of months, and costs dramatically less than comparable options. In other words, Robco is exactly what we'd been hoping to find: a solution to an SMB's biggest pain point, that an SMB could actually afford.
As we got to know Roman, Paul and Constantin, our early convictions grew stronger. The three of them met while studying robotics at the prestigious Technical University of Munich, and between them have many years of robotics experience in both research and industry. They also have complementary skill sets: a former competitive skier, Roman's need to win fuels a strong commercial sense, while Paul and Constantine bring deep technical expertise. Together, they share an ambitious vision to make Robco the robotics leader for SMBs all over the world.
And in their home city of Munich, they've found the perfect place to begin. Germany boasts a considerable pool of talent in robotics—and while many companies in the space are reliant on China and increasingly broken supply chains, Robco enjoys a steady, local supply of parts. Germany is also a hub for the kinds of customers who need Robco most: the country is a global leader in manufacturing, and many of its factories are located in rural areas, where labor shortages have been particularly acute.
We've already seen how Robco modules are helping customers in Germany and beyond weather staffing challenges while scaling output and improving quality, and this is just the beginning; the company is growing rapidly just months after entering the market. On behalf of Team Sequoia, we are thrilled to partner with Roman, Paul, Constantin and their team, to lead this Series A round, and to support them as they continue that growth and explore even more exciting new use cases. We believe this is an historic moment of opportunity for robotics—and for the human creativity it enables—and we hope someday, manufacturing floors everywhere will be a sea of Robco aquamarine.