Nimble Storage IPO: The Bet-The Company Pivot
Congratulations to Varun Mehta, Umesh Maheshwari, Suresh Vasudevan and the entire team at Nimble Storage on your successful pivot and today's IPO.
By Team Sequoia
Published December 13, 2013
In July 2009, Varun Mehta—a first-time founder—was driving toward a courageous decision: giving up a sure success for a long shot at disrupting a major category.
Nimble Storage, the company he started 18 months earlier with Umesh Maheshwari, was testing its product, a flash-based caching appliance, or "cacher," that sat on top of existing storage systems and dramatically improved I/O performance. Beta customers loved the cacher and it looked like a hit. Shockingly, Varun and Umesh wanted to kill it. Instead, they proposed building a primary-storage system that incorporated flash, a much bigger opportunity, but a far riskier one. The venture graveyard is full of startups that have taken on the primary-storage market. Data storage is such a mission-critical function for most businesses—and EMC and NetApp are so well entrenched—that customers just don't buy from startups. Every new entrant that's broken through has first succeeded in an ancillary market.
From a technology standpoint, however, Nimble's plan had merit. Flash drives are a lot faster than traditional disk drives and provide businesses speedier access to their data. Because flash is more expensive, established storage companies treated it as an option for the high end of the market. Nimble saw a chance to target mainstream businesses, but thought the window wouldn't stay open long.
The fundamental go-to-market dynamic remained, however. Varun and Umesh, along with their first marketing execs Dan Leary and Ajay Singh, talked to about 100 prospects to find out what would convince them to buy primary storage from an upstart. The answer: a daunting 10x performance improvement for little additional cost.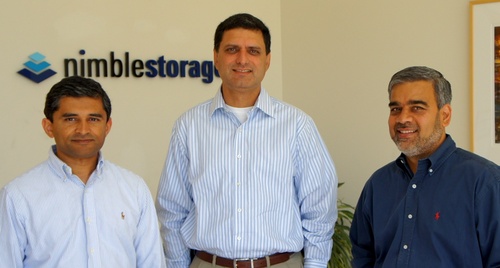 Varun and Umesh were willing to bet the company they could pull it off. But they also knew that they wouldn't be able to support the cacher and still have the resources to develop a next generation primary-storage system.
We've known Varun since he was an early engineer at NetApp and worked closely with him during the months that Nimble incubated here at Sequoia. He's a calm, deliberate man with a youthful demeanor and a wry sense of humor. But there was nothing funny about his recommendation—it was a huge risk. Our co-investors from Accel and Lightspeed joined us in pressure testing the plan—we pressed him hard. He answered us at every turn and never wavered that the pivot was the right thing to do, which after endless hours of debate won us over.
The original Nimble Storage team in 2008; Varun, Jim and Umesh present day
Varun and Umesh are storage gurus. Varun was VP of engineering at Data Domain. Umesh is a legendary coder. He architected key parts of Data Domain's file system. He has a PhD from MIT and won a gold medal in CS at IIT Delhi.

They drew on all of that experience to build Nimble's system. They took advantage of flash in the areas it was best, but also used standard disk drives where it made sense. They combined primary storage and backup in one architecture and developed new file-system software to manage it all. After two and a half years of development, they'd achieved the impossible sounding 10x improvements at a competitive price.
True to their word, customers bought it. When Nimble went to raise its Series C round of funding, Varun and Umesh forecasted about $6 million in bookings for all of 2011. In fact, demand was so strong that they exceeded that in a single quarter.
That was due in part to another great decision the pair made: partnering with Suresh Vasudevan, who became the company's CEO. Suresh had a spectacular career at NetApp and understood the nuances of the opportunity.
As CEO, he spearheaded the company's go-to-market plans. Unlike many leaders, Suresh can not only convey a compelling vision, but he's also a great listener and facilitator who brings the best out of people around him. He created an environment that embraced new talent, while also getting the most from the company's original executives.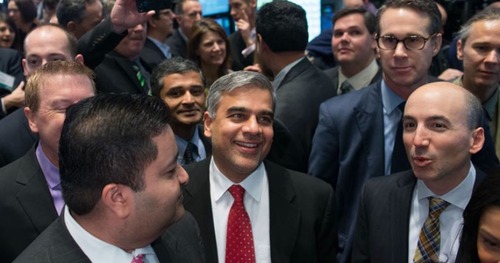 Congratulations to Varun, Umesh, Suresh and the entire team at Nimble. If you had stuck with the cacher, it's likely some conglomerate would have acquired Nimble long ago. Today's milestone is a validation of your courage and willingness to risk it all for a chance to redefine a market.
With the idea that it might be helpful to entrepreneurs starting out today, Varun and Umesh gave us permission to share their Series A presentation from December 2007, when we co-invested with Accel. The presentation frames the cacher as a market-entry tactic (called the "Accelerator" in the deck) but their long-term ambition to build a next generation storage system (the "Storage server") comes out on slide seven. This look back also shows how far innovation in the data center has come in the last few years. For the record, Umesh is the gifted artist behind this deck, and Varun the skillful presenter. Note that the simplicity of the slides present a clear case that compelling graphics aren't required for funding provided your idea has merit.