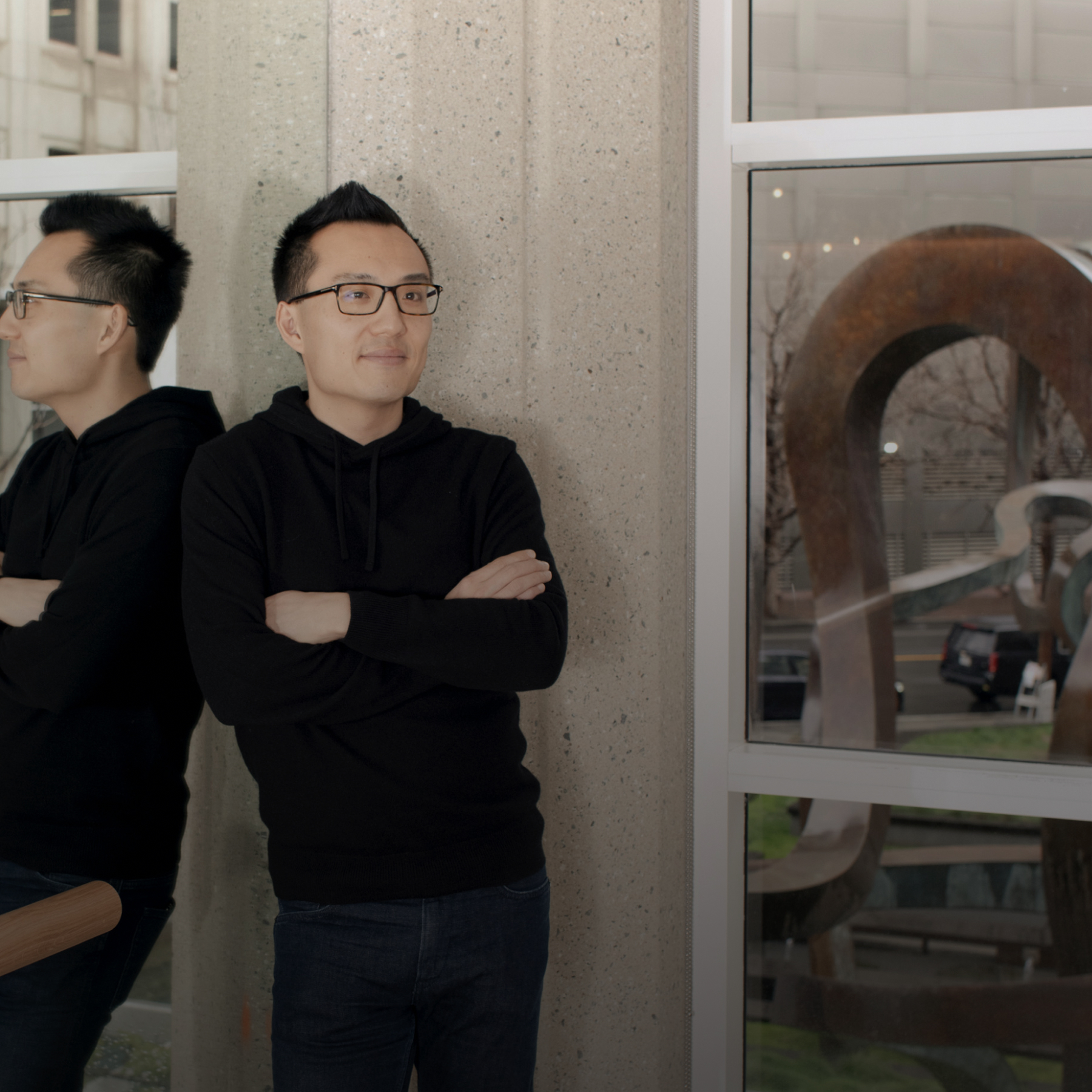 DoorDash's Tony Xu on weathering the stormy and competitive waters of on-demand delivery.
On Wednesday, December 9, 2020, when the closing bell echoed across the floor of the New York Stock Exchange, Tony Xu, the son of Chinese immigrants who arrived in the U.S. with a couple hundred dollars in their pockets, found himself standing at the head of a company worth $72 billion at the end of its first day as a public company.
It was a surreal sensation for Xu, but the founder and CEO of DoorDash intended to keep to his weekly routine as best he could. As soon as the television interviews, which began at 5:30 that morning, concluded at noon, Xu held his regular business review meetings. While CNBC and Fox Business feverishly covered DoorDash's public debut, Xu was on Zoom with his team, going through every facet of operations, dissecting progress, diagnosing failures and plotting the company's future. Not until later that night did he finally uncork the Champagne bottle that had been chilling all day in the fridge.
DoorDash's IPO would end up being one of the biggest of 2020. From the start of trading that morning to the day's close, the company's stock rose 86 percent above its IPO price of $102. All this despite 2020 being the most challenging in the company's young life, one ultimately defined by logistical nightmares and existential questions as much as it was by stock market success. As the company with the greatest category share for food delivery in America, DoorDash has moved to the forefront of the competitive landscape known as on-demand delivery. The intense spotlight on the company's fate, born on that momentous December IPO, has not dimmed so much as it has spread.
For Xu, navigating the last mile means mastering the little things, both professionally and personally. There are habits, he says, that are sacrosanct, now more than ever. Friday evenings are for date nights with his wife. Mornings are for runs somewhere quiet and natural, followed by breakfast with his young daughter. At the office, he regularly takes customer service calls with merchants, believing the success of DoorDash depends partly on him being constantly exposed to every level of operations. He even performs the occasional delivery, or "dash," in company parlance. "We have a saying: 'Try to find the and solution, not the either/or solution," Xu says. "These little routines have allowed me to try to achieve that and solution, between work and life."
JOIN OUR MAILING LIST
Get the best stories from the Sequoia community.
The question of the last mile—a product's final journey, from retail shelf to customer doorstep—might be Silicon Valley's favorite riddle to solve right now. The crowded field is evidence enough. Before Xu and fellow Stanford alumni Andy Fang and Stanley Tang, along with Evan Moore, created the DoorDash predecessor Palo Alto Delivery in January 2013, the on-demand delivery space was already cluttered with competitors like Seamless, GrubHub and Postmates. Since then, the field has exploded to include companies like Uber Eats, Instacart, Gopuff, Delivery.com, Gorillas and more, all of which offer slightly different service options and fees. (In 2013, Seamless merged with GrubHub, and in 2020, Uber acquired Postmates.)
Amazon, of course, has streamlined last-mile logistics like no other company, mainly by atomizing central warehousing and setting up distribution centers around the country. Their efficiency standards have made once-unthinkable services like same-day delivery possible, accelerating customers' expectations for efficient, simple and affordable deliveries at all times of the day and night. Companies like DoorDash have met these increasingly complex expectations. Not long ago, only dwellers of the largest cities had delivery beyond Chinese food and pizza—and even there, options were slim. Now, residents of more than 7,000 cities, in all 50 U.S. states and in Canada, Australia, and Japan and Germany can use DoorDash to order anything from French toast to tacos to, more recently, alcohol and a sweater for the family labradoodle. (Or a sweater for the family baby, for that matter.)
Globally, the online food delivery market is expected to reach nearly $200 billion by 2025, a roughly 50 percent increase from 2021. For businesses like Oren's Hummus, in Palo Alto, DoorDash has become more than a boost for their delivery service. "Delivery is a huge portion of our business," says Oren's CEO, Mistie Boulton, who was one of Palo Alto Delivery's first clients. "Now we're able to accommodate orders from across the Bay Area for big events and offices."
Despite its meteoric IPO and current valuation, DoorDash is constantly working to optimize its business model. Moving a meal (or in some cases a single slice of cake) from a restaurant to an apartment across town, only to have another order pop up from a nearby location five minutes after the delivery driver has taken off, presents a complex set of logistical challenges.
DoorDash set out from the beginning to solve every logistical question by building its own technology. That has translated into a trove of data from years of operations. DoorDash has to consider prep times for specific menu items, weather forecasts, local traffic patterns, availability of parking spaces, Dasher efficiency and countless other crucial indicators.
Alfred Lin understands these challenges better than most. Prior to joining Sequoia in 2010, Lin was chairman, COO and CFO of Zappos, where he oversaw the online shoe store's warehouse operations and its eventual acquisition by Amazon. In 2013, when Xu and his co-founders pitched DoorDash to investors, including Lin, at the startup accelerator Y Combinator's annual Demo Day, Lin passed. DoorDash had little reach beyond Palo Alto, where the company was founded. "The data was very good for Palo Alto and Stanford," says Lin, "but there wasn't data to [make me] believe this is going to take over and work everywhere."
Xu, Lin continues, said he "wanted to be the FedEx of local, and I'm like, 'Wait a minute, you just told me you were doing food delivery!' So the vision was always there, it was just fuzzy at first."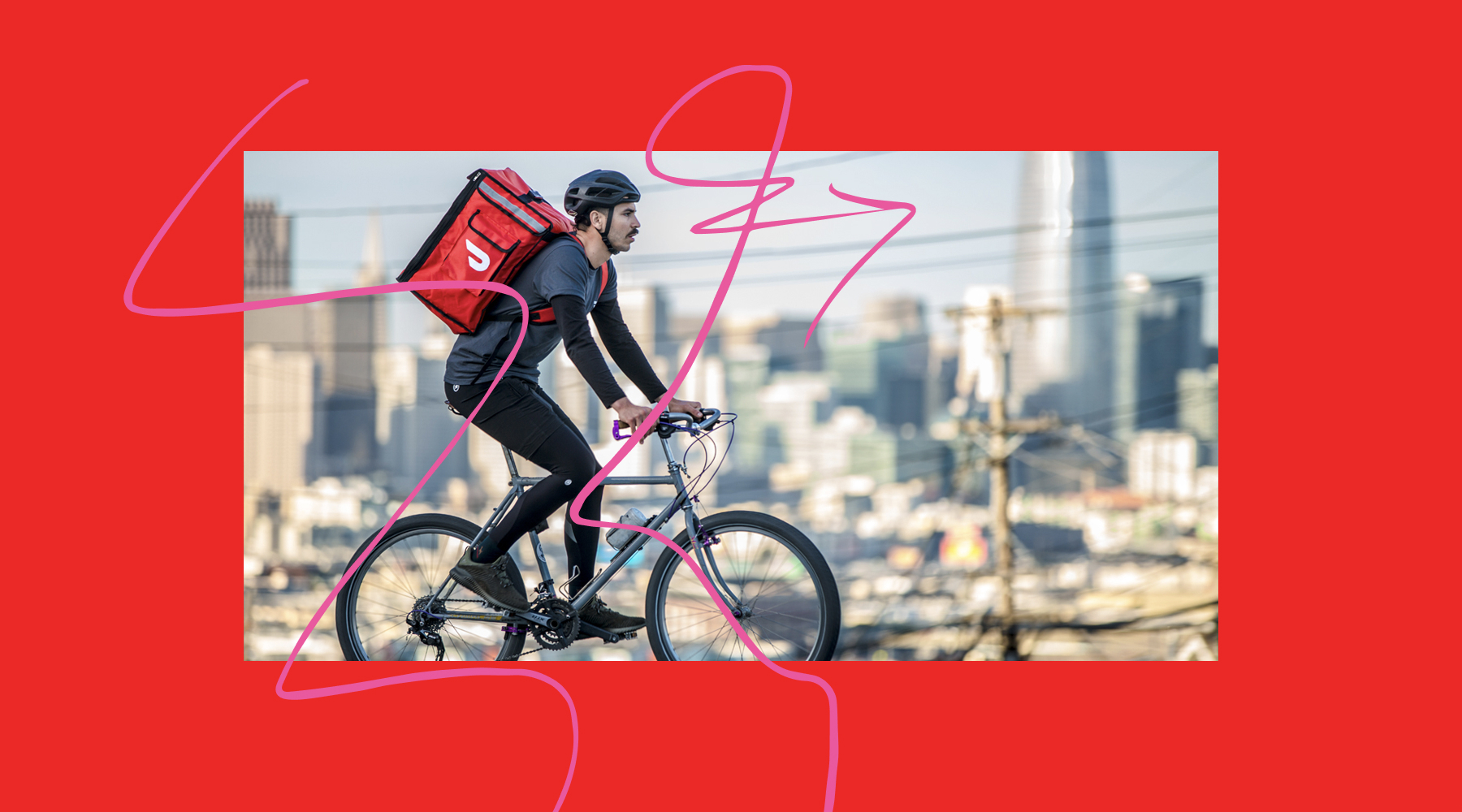 "Tony wanted to be the FedEx of local, and I'm like, 'Wait a minute, you just told me you were doing food delivery!' So the vision was always there, it was just fuzzy at first."

ALFRED LIN
Like Lin, few investors bought what Xu was selling that Demo Day, nor would they for some time. But Lin decided to keep an eye on Xu. Lin had grown up in New York City; he missed having the food delivery options that he once enjoyed there. One evening, about a year after the Y Combinator pitch, Lin and Xu were seated next to each other at an entrepreneurship dinner in Palo Alto. In a winding conversation, Xu explained how he and his cofounders had spent the past year breaking down food delivery into dozens of pain points. They had worked as Dashers themselves to understand the experiences of businesses, drivers and customers.
At dinner that night, Xu untangled the last mile in a way Lin had never heard before, insisting that one key was building their own community of Dashers, a unique model at the time. "Tony's observation was you've got to see things at 30,000 feet and you have to fight at the ground level," says Lin, who brought DoorDash into Sequoia's portfolio shortly thereafter. "Very few leaders have ever thought of it that way." This perspective, which has been folded into DoorDash's company culture, is a byproduct of Xu's own life.
When he was four, Xu emigrated with his parents and grandmother from Nanjing, China, after his father was admitted to the University of Illinois' graduate engineering program. Xu's favorite drink was Coca-Cola; he was thrilled to learn that beverages were complimentary on the flight. "I couldn't stop drinking Coke," he laughs. Coincidentally, the first American city he laid eyes on was San Francisco, though only long enough to transfer to another plane bound for the Midwest, where Xu remembers everything feeling huge. "Land," he says, "was everywhere."
The family had arrived with little more than $200 to their name. The university placed them in a tiny apartment off campus, in Champaign-Urbana. Xu shared a bedroom with his grandmother, who took care of him while his mother held down as many as three jobs and his father attended classes and worked as a waiter. "It was primarily my grandmother and me," says Xu, "which meant I had a lot of time to learn things on my own." His grandmother didn't speak English, so Xu taught himself the language by playing basketball with school friends and watching television. (He'd go on to change his name from Xun to Tony, after his favorite actor, Tony Danza, from Who's the Boss?)
For Xu's mother, the move to America had been a particularly difficult transition—she'd been a medical doctor in China, but in the U.S. her credentials were meaningless. Her immediate alternatives included working in a Chinese restaurant, with Xu by her side, washing dishes. Like every kid in America at the time, Xu wanted to buy a Nintendo, but asking his parents to buy him a gaming system was out of the question. So, like so many young strivers before him, he cut people's lawns. Xu then took the job a step further; by adjusting the height of his mower blade, he could create patterns in the grass. "It was mostly stripes and checkers," Xu says, although he also offered American flag designs.
Xu was one of only three Asian kids at his school, and he understood that there was something separating his life from those of his non-immigrant peers. At the same time, "it felt as natural washing dishes as it felt going into someone else's home with a very large yard and doing my best to cut their grass," Xu says. "Even though I was statistically an anomaly in that community, I didn't feel out of place, and, looking back, I realize that we were all part of the same ecosystem."
It took Xu's mother 12 years of working at various restaurants and other jobs to return to medicine and open up a community clinic in California, where his father had moved the family in the late 90s after taking a job with Intel. Xu originally focused on cancer research, applying math to biology. By the time he finished his undergraduate studies at Berkeley, however, he was thinking a lot about the small businesses that had employed his parents through the family's first, difficult decade in America. He applied and was accepted to Stanford's Graduate School of Business. When it came time to create a company in the program's Startup Garage course, Xu had no clue of what the company would be. But he knew its target audience.
Xu's life had been molded by small businesses—their owners, their employees and their customers. In many ways, they served as the beating heart of the cultural ecosystem he would come to believe we are all denizens of. When Xu and his co-founders faced their first crisis, it was this kind of perspective that Xu turned to. It was September 2013, Stanford's first home football game of the season. Every single order was late and the customer service line—then just a Google Voice number connected to Xu, Fang, Tang and Moore's cell phones — was exploding with frustrated calls. "At that point, we were still unsuccessful at raising money, so refunding every customer would have been a double-digit percentage of our bank account," Xu says. "But it took us about 15 seconds to decide to do it—and, on top of that, bake them cookies and deliver them to their house by 5 a.m., before they woke up."
"We often talk about founder–market fit as something that's quite important in a founder, because they live the pain and live the problem, and they can envision the world differently and come up with a better solution," says Lin. "Tony just happened to have a very authentic story, and this was one of those situations where you just saw the person that he truly is."
---
Made-to-order meals from small businesses like Oren's Hummus cannot be created and stored in a centralized facility, nor can orders placed at the same restaurant be bundled together all at once and placed on a truck that completes a dozen deliveries in one neighborhood in one trip. People order food when they want it, and they expect it at their door, still piping hot (or ice cream cold), in under an hour. As the on-demand delivery landscape expands, the race from restaurant kitchen to customer table is getting faster—and that race has only accelerated during the pandemic.
When COVID-19 struck in the spring of 2020, it brought existential uncertainty for DoorDash and Dashers alike. With much of the world's population stuck at home, there was concern that the restaurant industry would shutter altogether, imperiling DoorDash and the workers who relied on it for income. "It was certainly survival mode," Xu says of those first days of lockdown.
"It was certainly survival mode."

TONY XU
"People were in a panic state," says D'Shea Grant, who lives and dashes in Queens, New York. For her, dashing has become a lifesaver—she has a daughter with special needs, and without the ability to pay for a caregiver, a traditional 9-to-5 job is impossible. "My hours and my lifestyle are not consistent," she says. Grant's work–life circumstances reflect those of some 60 percent of women Dashers who are also parents or caregivers, and 30 percent of male Dashers, who also report the reason they do this work is because of the flexibility to earn money and have time for caregiving responsibilities.
In the midst of that early uncertainty, Xu rushed to reorient the company around safety and support for delivery workers, announcing free personal protective equipment, financial support for those impacted by COVID-19, and access to other critical services, like telemedicine. "They were already working tremendously hard and tremendously smart," says Lin. "But, in the pandemic, Tony took the company to a completely different level."
When it became clear that restaurants in the United States would not be forced to close during the lockdown, and Dashers like Grant would, in fact, be deemed essential workers, Xu had to shift from negotiating existential uncertainty to a situation that promised an unprecedented boom in last-mile deliveries. "It was like, 'Oh shit, these restaurants are about to get slammed,'" Lin remembers thinking. "We could help them by making DoorDash available to them as quickly as possible."
One of the first things the company did was launch the #OpenForDelivery campaign, a marketing initiative to remind people that restaurants were not only open, but that they would need to rely on deliveries—from DoorDash as well as Uber Eats, GrubHub and their other competitors—more than ever. "Tony didn't care that he was helping his competitors," says Lin. "It was the right thing to do."
It was an effective marketing campaign, sure, but more than anything else, #OpenForDelivery reflected a deeper philosophy that defined Xu long before he and his cofounders decided to launch Palo Alto Delivery in 2013: his lifelong desire to invest in and boost small and local businesses, from kitchen to doorstep.
"There are way more things that bind us than there are things that delineate us," says Xu. "Because I come from that context, the choice that I've made, and that our company has made, is that we want to make sure that all of our audiences are going to be successful, individually and collectively."