She Builds: Stories to Inspire More Women to Become Entrepreneurs
Team Sequoia India & SEA
Published February 21, 2022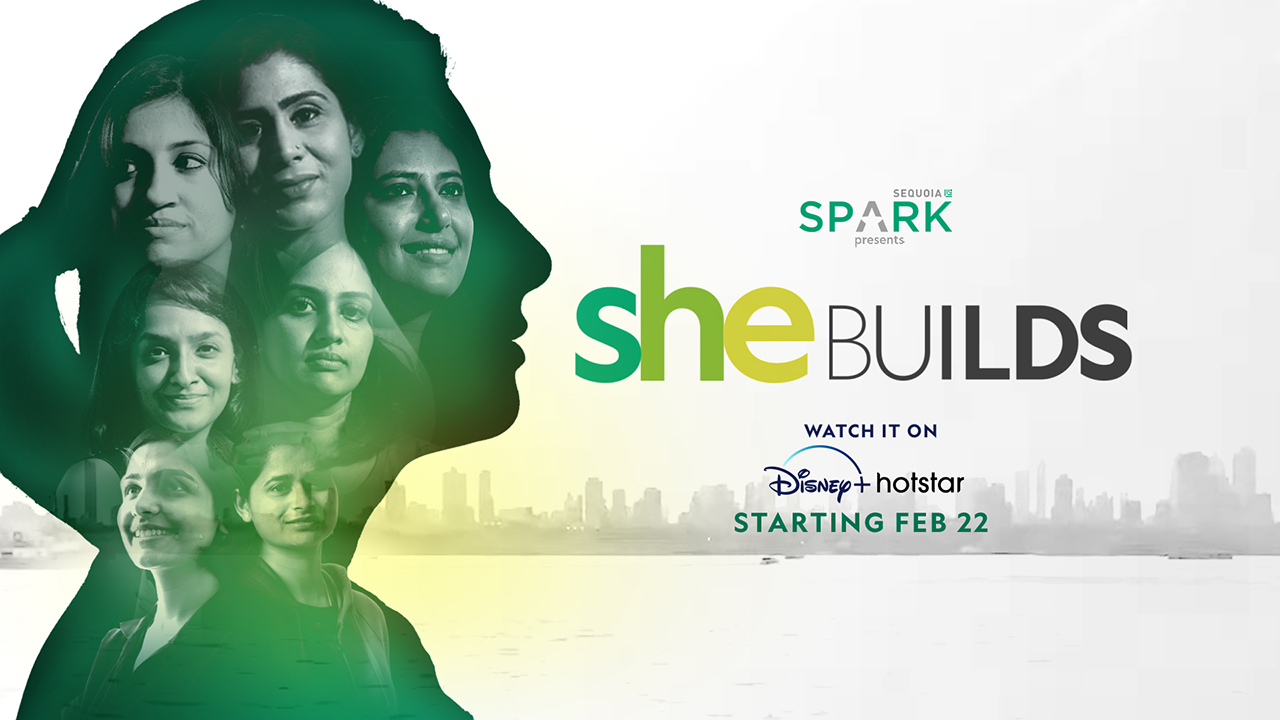 "If she can see it, she can be it".
This vision statement, by the Geena Davis Institute On Gender in Media, underscores why it's just so important for girls to see women in different roles in media, whether it be films, TV, news, documentaries or social platforms. If girls, and women, can't see female scientists, doctors, CEOs, engineers or entrepreneurs, be it in person or on their screens, how can they even begin to aspire to become one?
While the number of women graduating from university in India is at an all time high, the percentage of women in the labour force, and in leadership roles, continues to stagnate or even decline in certain sectors. We see this reflected in the startup ecosystem, where the proportion of women in tech and the number of female founders remains low.
Last year, Sequoia India and our friends at National Geographic India sat down with Academy award-winning producer Guneet Monga and director Vijayeta Kumar to think about what we could do to help change that.
At that juncture, our Sequoia Spark program had just launched a fellowship for female founders and an expanded public program of Spark Talks and Spark Studios to support women entrepreneurs in the region in their company building journey. We wanted to step even further back, and put entrepreneurship on the agenda for a wider group of women and girls.
Today, Sequoia Spark is proud to launch She Builds, a short film series that profiles seven female founders of six Indian startups, created in association with National Geographic India and Sikhya Productions.
The first episode in this six part series, which launches February 22 on Disney + Hotstar in India and across the National Geographic digital platforms, features Neetu Yadav and Kirti Jangra, the co-founders of Animall. Driven by a vision to empower dairy farmers through technology, these two incredibly impressive women – who hail from India's agricultural hinterland – are 'building for Bharat' and shaking up the country's traditional cattle trade. Check out the trailer below!
Future episodes of She Builds, which will air over the next two weeks, feature some of India's most innovative and inspiring entrepreneurs – including Mad Street Den co-founder Ashwini Asokan, Mamaearth co-founder Ghazal Alagh, Heads Up For Tails co-founder Rashi Narang, Atlan co-founder Prukalpa Sankar, and Divya Gokulnath, the co-founder of BYJU's.
These women are defying odds, taking risks, dreaming big and driving innovation in India – and for the world. We're incredibly excited to share their stories, together with Guneet, Vijayeta and the Nat Geo team.
We want to inspire every woman – and every girl – to discover her spark and know that she, too, can build something new.
Help us spread the word, change the conversation and celebrate these incredible stories of grit and innovation. Together, we can #SparkTheFlame.