The importance of key metrics in building an enduring business
At each stage of the startup journey, identify one key metric – and one counter metric – and track both relentlessly. Then translate that goal into a series of measurable steps to ensure that everybody can do something to move the ball forward each day.
Harshjit Sethi
Published June 15, 2020
The most successful founders leverage data every day to get better at what they do.
They start with a vision, which they then break down into goals that are relevant for each phase of development.
No matter how a business outlines its action plan, it's best to identify the metric that would matter most in each phase, as well as a counter metric that will help ensure sustainable success.
For example, when scaling its business, a company's key metric could be the number of active users and the counter metric would be customer acquisition costs (CAC). Then in the revenue phase, the focus may be on the average revenue per user, with the conversion rate as the counter metric.
Once identified, these key metrics should be the company's North Star.
Translating a goal into a series of measurable steps helps ensure that everybody can do something to move the ball forward each day. And in reviewing data, accountability is assured through a constraint that's measured with a counter metric.
Picking the right metric for your business goals
Founders typically ask themselves one of three questions to help define their North Star:
What is the company's vision? Consider Facebook: Their vision is to connect the world, and their key metric is monthly active users on the platform. For the last 15 years, this has remained their top priority.
What phase is the company in? A startup's business goals may change with each phase, which is also applicable to their key metric. A company that's looking for product-market fit will want to focus on engagement and retention, while a company in the scale phase would likely pay attention to the number of users. Those in the stage of building an economic engine to monetize their startup will want to focus on unit economics. On the other hand, a growth-stage company that's looking to build a sustainable business will focus on cash flow.
What's the biggest risk to the business and how can it be mitigated? This is an important question for any startup in a highly competitive industry or one where the failure rate is typically high. How can I quantitatively track progress against the key risk to my business?
The key metric will vary from startup to startup, depending on their phase and business priorities.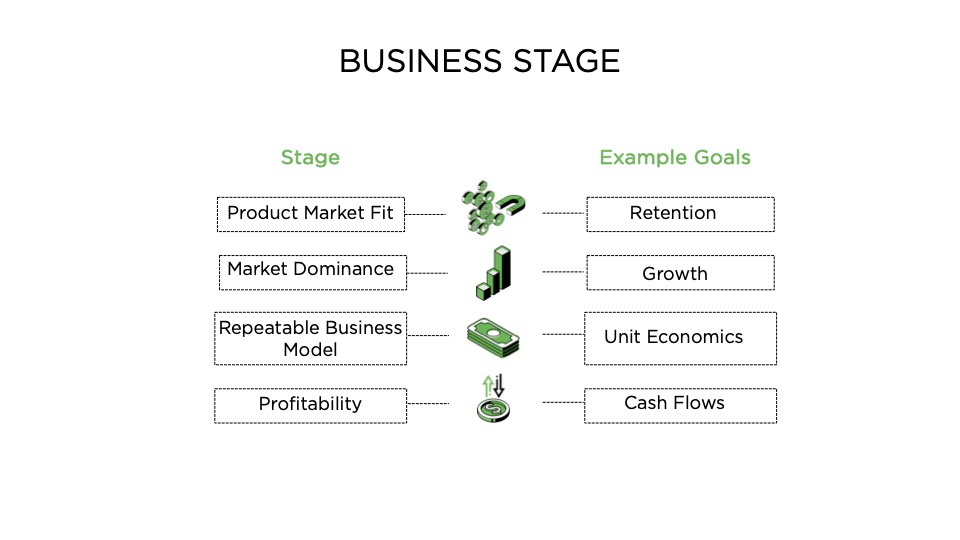 The founders of B2B payments company BharatPe, for example, focused obsessively on driving usage once it learned that it had product-market fit. The company's key metric was the number of transactions as well as the total payment volume that was flowing through its system.
Shortly after launching, it was doing 50,000 transactions per month; that figure has since grown over 1,000x in the last 18 months. Much of BharatPe's success can be attributed to its initial focus on that key metric and the drive to improve on it.
Meanwhile, other companies focus on a data point that can prove they can grow at scale, like this particular startup that Sequoia Capital had partnered with at the seed stage. With his company focusing on the blue-collar jobs space, the founder was confident it could scale the number of users, given the millions of people in his target demographic. However, when he looked at the competitive landscape, he realized that other companies in the space had lost momentum due to low user retention.
So he looked at his key metric through the lens of business risk instead: Can long-term engagement be driven in what has been a very transactional category with historically poor retention?
For both companies, the process of defining one key metric helped bring clarity, focus, and alignment across their teams while driving accountability at the same time.
Watch the counter metrics
What's impressive about the rapid growth of BharatPe's merchant base is that it scaled quickly without increasing CAC.
Its decision to try to limit CAC as a key counter metric affected many other decisions the company has made, including what channels to use for acquisition, what segments and geographies to focus on, how to onboard new merchants, when to accelerate growth, and when to slow down.
Having a clear counter metric can help founders make critical decisions on where and how to spend their money. This can be a lifesaver for a startup, especially in the current economic environment. All too often, founders take a "growth at all costs" approach once they've raised capital. A counter metric can help develop a more sustainable approach to building and growing the business.
This measure can also help keep everyone in the company on the same page and aligned with the company's vision, as startups often drop the ball in this aspect.
Check out the data for this social-video startup. Keen to drive stronger engagement, the company picked the daily active user/monthly active user (DAU/MAU) ratio as their key metric. As the graphs below indicate, it was performing well on this measure. But oddly enough, the D1 retention rate, which tracks the percentage of new users that come back the next day, was falling sharply.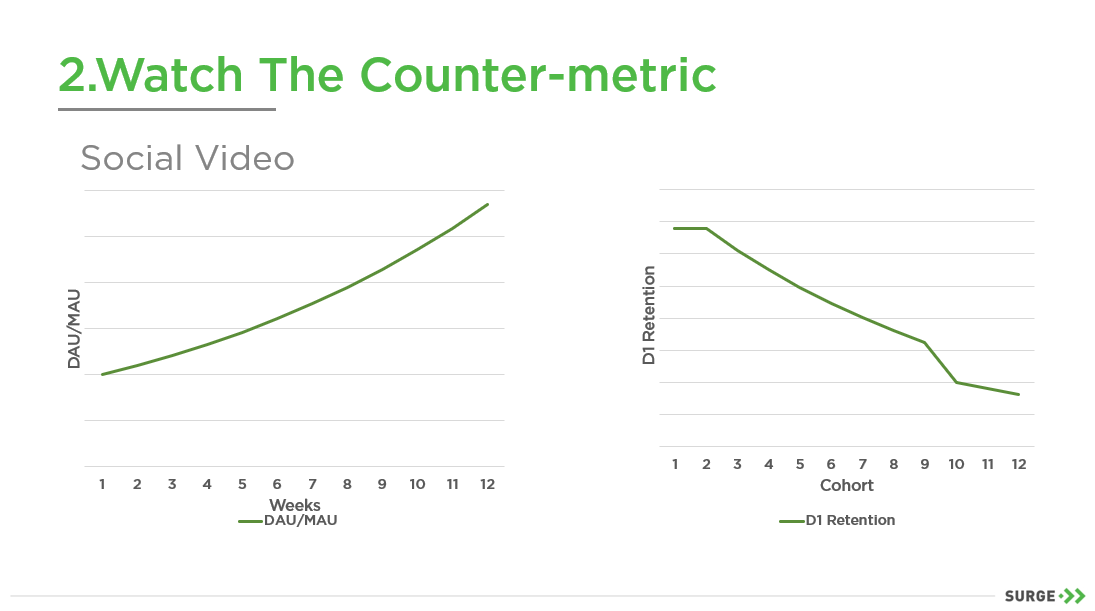 A probe into the matter revealed that the team charged with driving DAUs had been spamming users with eight to 10 notifications a day to drive engagement. While this strategy works in the short term – odds are someone will click on them – users quickly get tired of it and switch away from the platform. It's an example of "low-quality" improvement that will not lead to sustainable growth.
This is why communication and alignment are so important. Founders should think about the biases in their organizations and make sure they're not being led astray by some small gimmick. It's surprising how often a company tries to implement measures that are intended to drive key performance indicators but ultimately erode the business.
At each phase of the startup journey, identify one key metric and one counter metric – and track both relentlessly. Track all the data possible to help optimize for those "mother" metrics. Make sure everyone in the company is aligned to the same vision, the same goal – and following the same detailed road map. Plus, it creates a culture of honesty, whereas short-term hacks are often just that: short-term hacks.
If you can move the ball forward every day, and if you can articulate exactly how to measure that progress, you'll set the foundations for building a long-term, enduring business.
Disclosure: BharatPe is part of Sequoia Capital's portfolio.